"XTB.com" Forex broker: reviews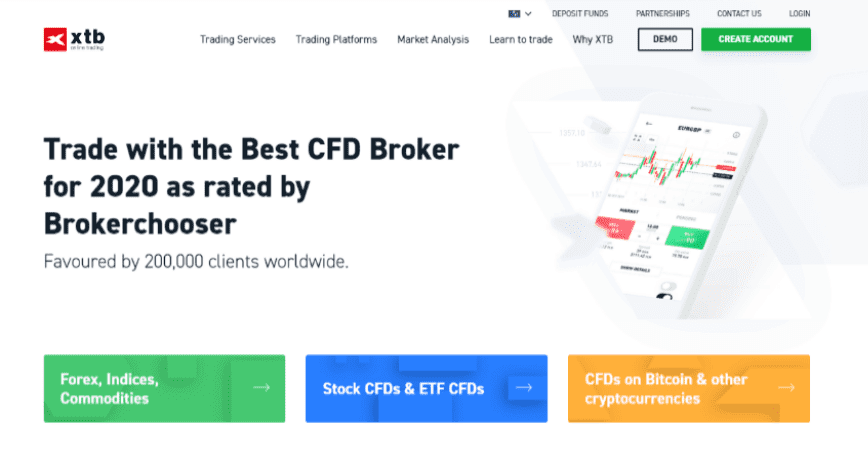 XTB.com is presented by its owners as a 'leading European FX and CFDs broker'. While it's true – it's a fairly acclaimed platform with thousands of daily users, you shouldn't shut your eyes and trust it blindly. Good thing about XTB is that it's truly well-known, hence the abundance of impartial reviews on different websites.
XTB.com is bound to have flaws, every trading hub does. Let's see exactly how flawed the platform is, and how detrimental for your experience these flaws would be. But first, let's see what XTB.com is exactly, and why it's so popular.
What is XTB.com?
XTB has been around for quite some time – it was started in 2002 as the first Polish leverage broker, which of course gave the platform a decent jumpstart. Now it has several offices and servers in France, United Kingdom, Germany and even Chile. So, it's fair to expect a fast execution if you're currently located in Europe.
XTB trades in several ways:
In indices

In commodities

On Forex

On stock CFDs

On ETF CFDs
Not a large list of trading opportunities, but XTB seems to compensate for numbers with quality. At least that's the idea. 
XTB.com boasts about their own trading system called xStation 5 – a substitute for the old and tested MetaTrader 4. Yes, don't worry – the company lets you decide between picking MT4 and their own creation. The only problem is, they don't have MT5 in stock, be that because of the technical problems or clever plan to dissuade people from using MTs on XTB.com.
XTB also guarantees safety and decent support. Whereas the latter you can only experience after you've contacted them, the former is also guaranteed by the organizations like FCA, KNF, CySEC and IFSC. They control XTB's activities.
The ranking
On different review aggregators, XTB's ranking varies from 3 to 4/5. This can't give anyone a clear picture on its own. An average experience can be anything from 'bad' to 'excellent' according to this. Let's look at some reviews.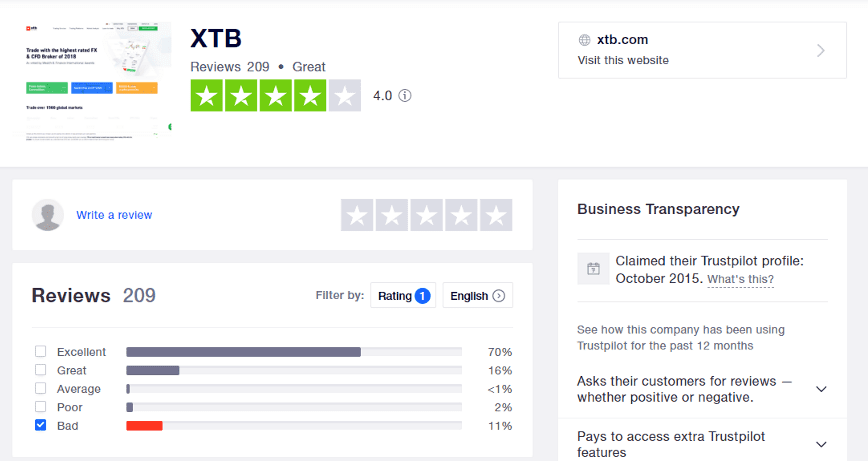 The advantages
First off, let's start with the beneficial sides of working with XTB. There are quite a few of the reoccurring benefits reported by review authors.
The support is great. The specialists behind the client support are reportedly very patient, professional and helpful. The majority of the positive reviews on both Trustpilot and Forex Peace Army tell you how responsive and helpful certain XTB agents have been.
The support is not only there to fix your problems when any such arises. You can ask the representatives any question regarding the platform and trading as a whole. And it is explicitly stated that you should do so. 
When you sign up for the demo account, you're given the opportunity to ask an assigned agent all the questions you have about both trading and their platform. They are happy to help.
The education is thorough. Learning seems to be one of the key values of XTB:
Firstly, from their 'about us' page you can understand that their support is intended to be educational, not just a problem-solver

Secondly, they have not one but two educational tabs. The first is 'analysis', here the specialist leave their opinion on market. The second is 'learn to trade' – the menu additionally divided into the short 'overview' and the set of courses called the 'academy'
All in all, this system is praised by reviewers for its genuine educational value.
The disadvantages
There's also a fair bit of reviews praising the platform for its technological prowess and fast response, but there aren't a lot of them. Plus, the performance can vary based on the personal circumstances. Still, it's important to remember that XTB at least doesn't disappoint on that front.
But back to the flaws, there's quite a few of them.
The hidden fees are terrible.  The reason behind the ~90% of the reviews are hidden fees. It's unbecoming of such a transparent company to hide the commissions and other financial surprises on their platform. Not to mention that the costs themselves are pretty high, making it somewhat hard to start with small investments.
But there's also a good side to it all. While setting up your demo account, you can ask the representative of the company about all the fees they charge. They, unfortunately, can't be found anywhere in plain sight, so it would be reasonable to write them down somewhere.
And also check if the costs of withdrawing, exchanging and trading are to your liking, because it seems the platform charges a bit more than an average competitor.
The performance can drop sometimes. It's one of the less bothering problems about this platform. Nevertheless, it happens with some people – freezes, low speed, and other performance shortcomings. 
The cause can be either with the website itself, or with the reviewers' hardware (in this case, the problem can still be with the website, because trading platforms generally don't need strong hardware).
The former is easy to explain. The company doesn't have a worldwide network of servers. Connecting from North America, Asia and Africa can be tricky because XTB's target regions are Europe and partly South America.
In conclusion
XTB is a good platform. Not only is that one of the titans in the field, it is also a very transparent brand. The support is overwhelmingly effective and helpful, one of the best in trading space.
There are, of course, flaws. The cause is mainly the poor financial management within. It can be detrimental, but you can always take precautions. Especially now that you know there are hidden fees.