BitMEX: The Trading Platform Review
The Bitcoin Mercantile Exchange, or BitMEX for short, is an exchange platform launched in 2014 by HDR Global Trading Inc., in Victoria, Republic of Seychelles. Its platform mainly deals with margin-trading for cryptocurrency and is widely known for its quality services, albeit a complex one at that. It was created and launched by Arthur Hayes, Ben Delo, and Samuel Reed, who were experts in the field of finance, trading, and web development, respectively. 
As for the BitMEX trading platform, it offers leveraged trading services for Bitcoin through a highly competitive market environment that mostly cater to more advanced users.
Overall, BitMEX is a market-leading and highly regarded trading platform. However, it is imperative to note that this is for advanced users, and its learning curb isn't as forgiving as most trading platforms.
Here's a summary of what we think when looking into the BitMEX trading platform.
Pros:
• BitMEX provides an advanced trading platform and service like none other.
• BitMEX keeps a transparent operation. Nothing is hidden from the client.
• BitMEX boasts competitively low fees.
• BitMEX trades can go up to 100 times in terms of leverage.
However, there are a few cons to note right off the bat. 
Cons:
• As we've mentioned before, BitMEX is not beginner-friendly and may take professional training to understand how it works.
• BitMEX also does not support fiat deposits and withdrawals. You may need to transfer your Bitcoins to other services in order to withdraw into centralized currency.
So, with that summarized, let's get into the details below.
Services
As we've mentioned prior, BitMEX's services pertain to selling Bitcoin futures and contracts through the use of leveraged trading. This means that traders do not actually trade Bitcoin itself; rather, they buy and sell contracts for the cryptocurrency at a leveraged rate.
BitMEX's leverage levels can go as high as 100 times the value, giving the trader a chance of raking in even greater profits when closing a successful trade. However, the catch with leverages is that it can also magnify losses when a trade goes down south.  This, in turn, makes the current market extremely volatile.
To many, this can be seen as a very bewildering concept. As such, the BitMEX platform would be highly recommended for seasoned traders who have a greater understanding of how the markets work inside and out.
As for the contracts, the BitMEX trading platform allows the trader to buy and sell a variety of contracts. There are mainly four types of contracts to be exact.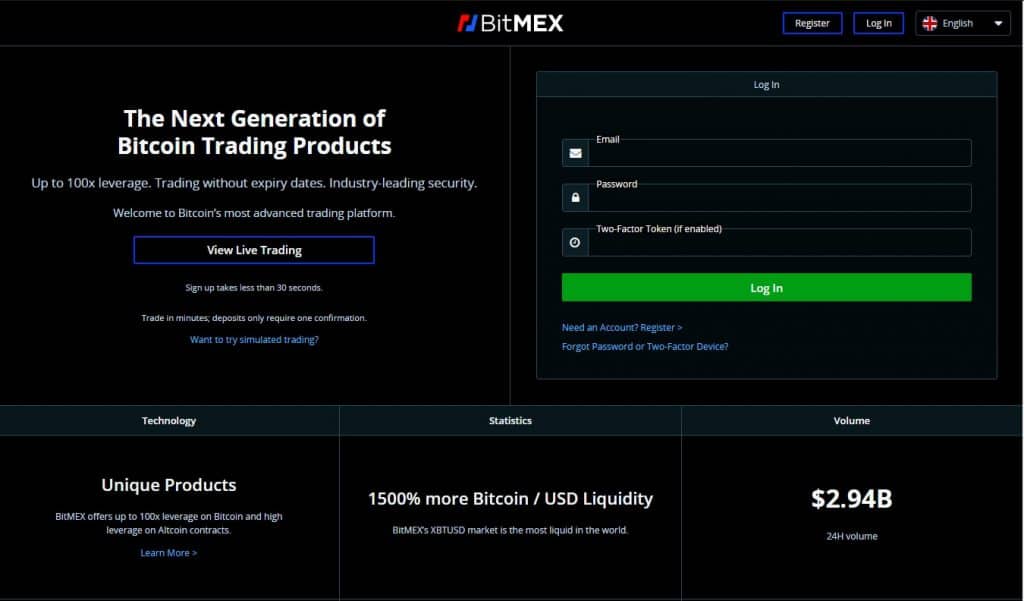 Future Contracts:
The first one they trade in Future Contracts, which are agreements to buy or sell at a speculated price on a specific time in the future.
Perpetual Contracts:
Secondly, they have perpetual contracts. These contracts work the same way as a Futures Contract. However, they have no expiry date, and since Perpetual Contracts mimic a margin-based spot market, they would trade closer to the underlying reference Index Price.
In contrast, a Futures Contract may trade at significantly different prices due to the basis.
Upside Profit Contracts:
These contracts tend to be difficult to explain to beginners. Upside Profit Contracts are contracts that allow investors to buy a spot at a premium price for a trade date on a potential upside of a cryptocurrency. Once this date comes to the past, the buyers would be entitled to receive the difference between settlement price and strike price. Should it equal to a negative, the buyer receives zero.
Downside Profit Contracts:
These contracts behave very much like Upside Profit Contracts except that traders participate in a potential downside of the value of a cryptocurrency. Downside Profit Contracts cannot be sold short, unlike the Upside Profit Contracts, and can only be held as long positions.   
Payment Options
BitMEX services can only be paid through cryptocurrencies, and its focus on Bitcoin allows it to be the better payment option. However, BitMEX does offer services for other cryptocurrencies such as Cardano, EOS, Tron, Ethereum, Litecoin, and Ripple. However, they only have futures trading options, unlike Bitcoin, which has spot trading options.
The platform views most of its operations in Bitcoin. This can be true even when using other digital currencies.
Currently, BitMEX does not support the centralized currency, which can be considered as one of its drawbacks.
Fees
BitMEX's fees tend to be so minute and are considered as some of the most competitive out there. It's taker and maker fee is set at 0.0750% and -0.0250% respectively. Another great aspect of BitMEX is that it does not contain deposit and withdrawal fees, and its operations are transparent enough to show a lack of hidden fees.
Supported Countries
As good as any potential investment platforms can get, BitMEX, unfortunately, is unable to provide service to the following countries due to certain laws and restrictions. The countries not supported are America, Quebec (Canada), Cuba, Sevastopol, Iran, Syria, North Korea, and Sudan.
BitMEX comparison
BitMEX is currently in direct competition to Bitfinex and OKCoin and is deemed by users as worthy alternatives to this type of trading. However, BitMEX does have an array of advantages above its counterparts. For example, in terms of trades, BitMEX's high leverage, low margin, and small minimum contract amount are much better than the rest. 
Not only that, BitMEX uses underlying index prices instead of last-traded price to calculate margins. This would solidify the platform's security as this would make it impossible for any party involved to conduct illicit and fraudulent activity.
Enabling leverage options and customization is one of its advantages as well. Traders can enable leverages or even customize leverage levels even when a position is held.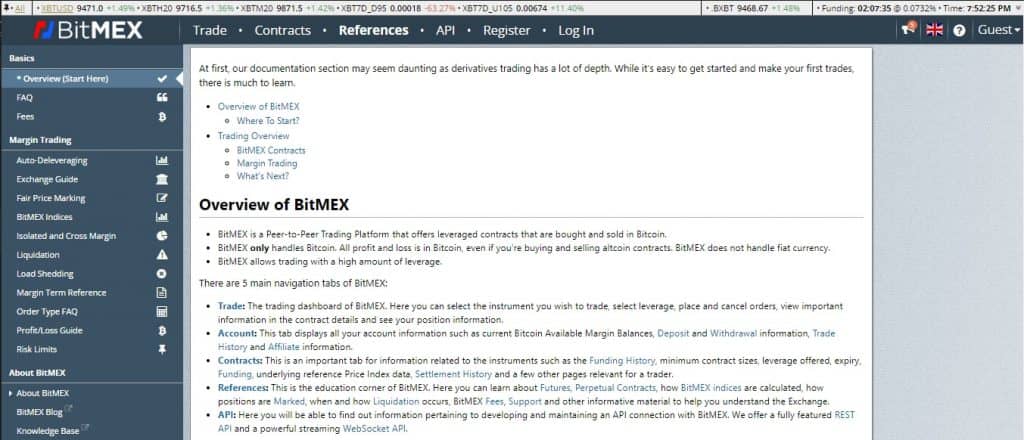 Website and Customer Support
The BitMEX.com website presents a dynamic package filled to the brim with useful information for anyone who carries questions about the company and its services. The website also sports live services, including an announcement system that displays recent updates, news, and current issues with the platform and a chat system that allows active users to engage and interact with the community. 
Its support system is organized through an email ticket system. 
User Reviews
You'd be hard-pressed to find any reviews for BitMEX at the moment. And even if there is, it is only touched upon briefly with full details completely omitted. A probable cause of this could be that margin trading can be confusing for the general public.  
However, more detailed comments and forum threads can be seen throughout the web to get a better picture.
FAQ
• Does BitMEX service clients in the U.S.?
From its terms of service, BitMEX does not service U.S. traders. Though various loopholes can be taken advantage of due to BitMEX's verification processes, not going in-depth with trader identity.
• Is BitMEX legal?
Yes. The company was incorporated under the International Business Companies Act of 1994 of the Republic of Seychelles with a company number of 148707.
Conclusion
BitMEX is a highly regarded platform to trade and wraps it up in a neat and professional package. However, it may not be the exchange for everybody due to its complexities. Those who are looking for something straightforward can always opt for alternatives such as Cex.io and Binance.