ActivTrades Forex broker review: All features analysis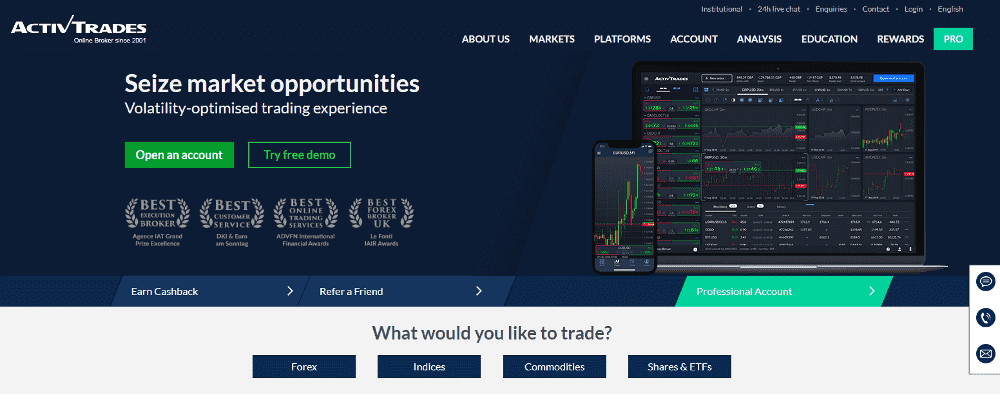 ActivTrades is one of the older brokerage providers online, dating back to 2001. They are operating from Britain, if that's comforting. Moreover, they are considered one of the best brokers in the United Kingdom, one of the friendliest brokers service-wise, and also one of the fastest when it comes to execution.
All of it means you're up to a comfortable trading experience. Although, to make it even better, it's advised to learn more about the local features and instruments – partly because it'll improve your chances of winning, and partly because there's just a lot of them.
So, let's go over most of them as concisely as possible.
Broker description
ActivTrades supports several types of securities. They generally have their own spread tables, but the fees are usually tight in most scenarios. The relevant list of markets includes:
Forex. There are actually a lot of different trading pairs, starting with the worldwide pairs, lesser currencies and even 'exotic' ones

Indices & Financials. Indices are basically reflections of the well-being of economy (of the represented country)

Commodities. The commodity category unites a lot of different product types, like the energies (oil, gas), metals (gold, silver) and products like coffee or grain

Shares. ActivTrades has a large selection of stock, not much to tell here
As you can see, AT gives you a lot of room for trading and strategy-making. However, to make the most of it all, you have to know more about the tools featured here. They are helpful in many small ways.
Software
In terms of software, ActivTrades can offer several indicators and algorithm to relieve you of some of the thinking effort. But most importantly, there are three main options for a trading platform:
MetaTrader 4

MetaTrader 5

ActivTrades
MetaTrader 4 is a classic omnipresent trading platform supported by virtually all brokerage providers in existence. It's so popular because it's comprehensive, highly customizable and gives you all the necessary information in one go.
There are already several tools installed on this MT4 version chosen by ActivTrades. There are useful charts, indicators and different info logs. If you don't want some of them, you can disable them. There are also many optional ActivTrades tools that can be requested for your interface.
MetaTrader 5 is arguably a better version of MetaTrader 5. It's friendlier, has more features and perks, and the only objectively worse thing is the smaller customization capacity. But that's not an issue here – most tools are equally available for MT4 and MT5. Most users still use MT4 out of inertia.
ActivTrades is available on PC, mobile and tablets. The platform isn't customizable, but it has several intriguing features right from the start. For instance, there's 'Trailing' (a tool that helps you control your losses by placing stop-loss levels wherever you want), Hedging features and several indicators and charts.
There aren't too many features, but the platform is generally more advanced than MT4 or MT5. The inexperienced trader can be easily confused by all the higher-level features. Still, if you know how to use it, ActivTrades platform can help you get very proficient at CFD trading.
Tools
Besides this obvious part of software, there are several other optional tools. They are optional and can be added to the MT4 or MT5 versions of ActivTrade within two clicks. Their absence from the base versions is due to the magnitude of these instruments, as well as the sufficiency of other tools, already included into the platforms.
It's an application that changes your interface dramatically you can still look at the charts and the way prices are behaving, but the new addition reworks the sell/buy buttons, gives them a clearer and more friendly look and adds current product prices behind them. 
You can open up several of these buttons for several assets. The execution is supposed to be faster with them.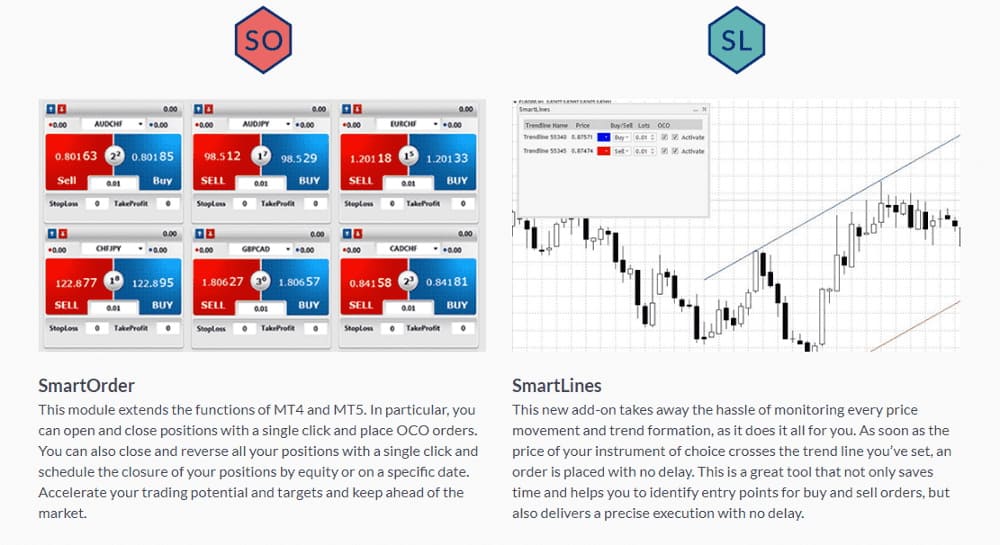 SmartLines allows you to set boundaries on the chart. Whenever the price of a product hits a boundary, it's forced to easy be bought or sold automatically – very handy and simple.
It's a basic trading calculator that can be used outside of a trading platform. It includes several variables, like leverage, open price, lots and other. Together, they can help you calculate approximately how much you can lose on trades.
That's an indicator that shows you several key things: market strength, daily trend, direction and total strength. If read correctly, this kind of information can help you predict the future price movements.
Similarly, this indicator also projects several variables tied to the market trend. Unlike Template, this one can use the recent data to predict the possible price changes, so you don't have to.
Similarly too, Pattern is a huge indicator that uses even longer historical data to determine how the trend's going to behave and give you an idea of how it behaves at the moment. Its projection occupies a lot of space on the chart, so you have to think whether or not you actually need such an imposing indicator.
There are several lines included into this indicator. Basically, they show you the approximate points where the market may change trend, as well as other lines for your own trend analysis.
Tools summary
All of these tools are available for MT4 and MT5, and some of them are, in fact, developed by ActivTrades themselves. These instruments are helpful, but you might not want all of them on your interface at once, because some of them show the similar things, and some may not even be necessary for your own experience.
But you still have all the cards, and a lot of room for maneuvering with them.