Bitfinex Review Summary
Bitfinex is a cryptocurrency exchange established in 2012 and headquartered in Hong Kong. This article will review the crypto exchange, the company behind it, and events that sparked controversy around it.
Bitfinex is a veteran in cryptocurrency exchange, despite the allegations and hacks that scarred its reputation. But it remains an advanced crypto exchange platform today. It is well-suited for expert traders, especially in lending and margin trading.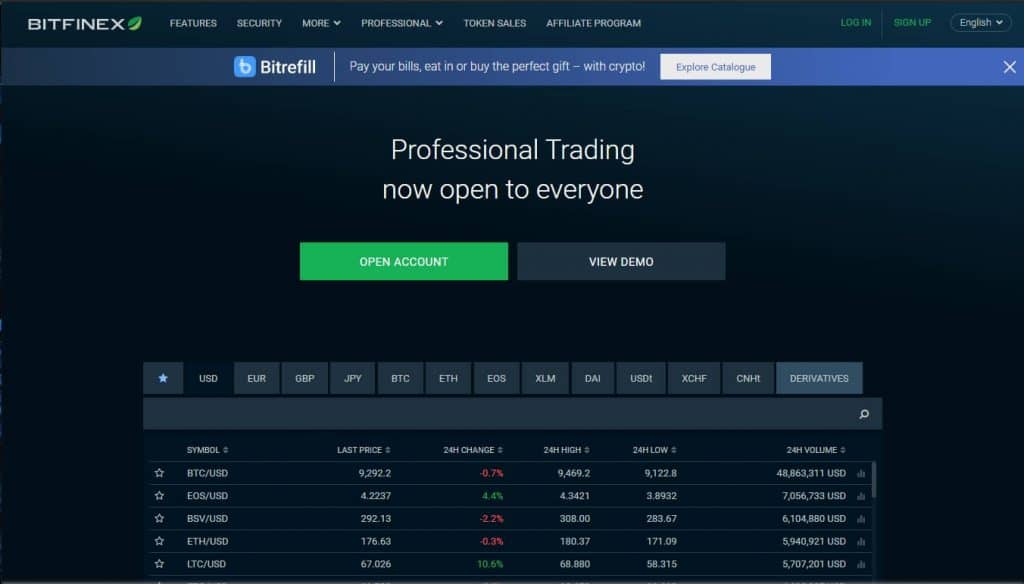 Note: Bitfinex does not provide services to US customers.
This article will cover the following topics:
Bitfinex Overview 
Bitfinex Services 
Bitfinex Difficulties 
Currencies and Payment Methods 
Bitfinex Fees 
Supported Countries 
Customer Support and Reviews 
Bitfinex vs. Binance 
Conclusion – Is Bitfinex Legit? 
Bitfinex Overview
Bitfinex was established in the British Virgin Islands by iFinex Inc and began as a P2P margin lending platform for Bitcoin. The founders and the management of iFinex Inc have also linked to the US pegged Stablecoin, Tether.
Bitfinex Services
The exchange provides different services such as:
An Advanced Trading Platform
Bitfinex has the most liquid order book globally. As high volume assures low spreads, traders prefer trading under these conditions. 
It offers an advanced and customizable GUI that features more than fifty trading pairs. It offers various order types, namely: limit, market, stop, stop-limit, trailing stop, fill or kill, and even scaled orders.
Bitfinex clients can also avail of the advanced charting functionality and the API access. All these features make Bitfinex a sophisticated exchange for cryptocurrency traders.
Margin Trading and Funding
On the site's P2P margin funding platform, clients can trade with a 3.3 maximum leverage. The client can ascertain borrowing terms (amount, duration, and interest) through an automatic option provided by the exchange.
Cryptocurrency owners can also lend their funds and gain interest on it. This is executed securely, and users can give funding to many assets and currencies according to their chosen rate and duration.
Over the Counter Services
For traders who want to trade over $100,000 worth of cryptocurrency privately, the exchange offers an over-the-counter trading facility. This secures the deal, especially large ones.
Bitfinex Difficulties
Bitfinex has been criticized throughout its career. In 2015, Bitfinex was hacked, and 1500 Bitcoins were stolen and never recovered.
In April 2016, another theft took place where 120,000 Bitcoins were stolen. This became the infamous second-largest Bitcoin heist in trading history; however, it is small compared to the Bitcoin heist of Mt. Gox, where 750,000 Bitcoins were stolen.
The difference between how Mt. Gox and Bitfinex handled the hack was that Bitfinex allocated the loss to all its clients. Not all accounts of Bitcoin owners were affected, but they decided to take a 36% cut on all client's account values. A year later, all clients were compensated.
In April 2017, Bitfinex's bank accounts were frozen by Wells Fargo. This lasted for weeks, where clients experienced pricing distortions on the platform. Users filed for complaint, and eventually, normal service was restored. But this led to Bitfinex no longer accepting US customers as well as US dollars.
Currencies and Payment Methods
Bitfinex accepts fiat deposits in GBP, EUR, USD, and JPY through wire transfer. Bitfinex also supports Tether (USDT), which is the quasi-fiat token pegged to the US dollar's price, though unofficial.
Free deposit and cheap withdrawal are available for Bitcoin, Ethereum, Litecoin, Zcash, Ripple, Monero, Iota, Dash, EOS, and other 80+ cryptos.
Bitfinex requires verification when using Tether and on expedited crypto withdrawals. But it also works for traders who only want to provide their email address.
Bitfinex fees
Bitfinex uses the taker-maker fee system where the trader fulfilling an order is called the taker, while the trader placing new limit orders is called the maker.
Fees are at 0.2% minimum for takers and can be as low as 0% for big maker orders. There is no trading fee for big orders executed through the OTC desk.
Crypto deposits are normally free unless you are depositing less than $1000 worth of crypto. In this case, you will have to pay a fee, which depends on the crypto you're depositing. Crypto withdrawals also charge a small fee, depending on the crypto withdrawn.
Supported Countries
Bitfinex provides services globally except in some countries, namely: the USA, Bangladesh, Ecuador, Bolivia, and Kyrgyzstan.
Customer Support and Reviews
Bitfinex provides a wide knowledge base and a ticket-based support center. Its score on TrustPilot shows that it has a good reputation among its customers.
Despite this, the exchange is not a stranger to criticisms, which mainly focuses on transparency and its close relationship with Tether. 
On April 24, 2018, Bitfinex was accused of covering $850 million loss of co-mingled client and corporate funds by the office of New York's attorney general.
The exchange denied the claims and posted an open letter to its users, where it said that the attorney general's office letter contained many inaccuracies and false allegations. 
Bitfinex vs. Binance
Bitfinex and Binance support large numbers of cryptos in the market. Bitfinex's edge is its advanced interface compared to Binance, albeit confusing. 
Binance has only been founded in 2017, which means it has a long way to go of creating a reputation, which Bitfinex has. However, Binance does have a cleaner reputation compared to the other.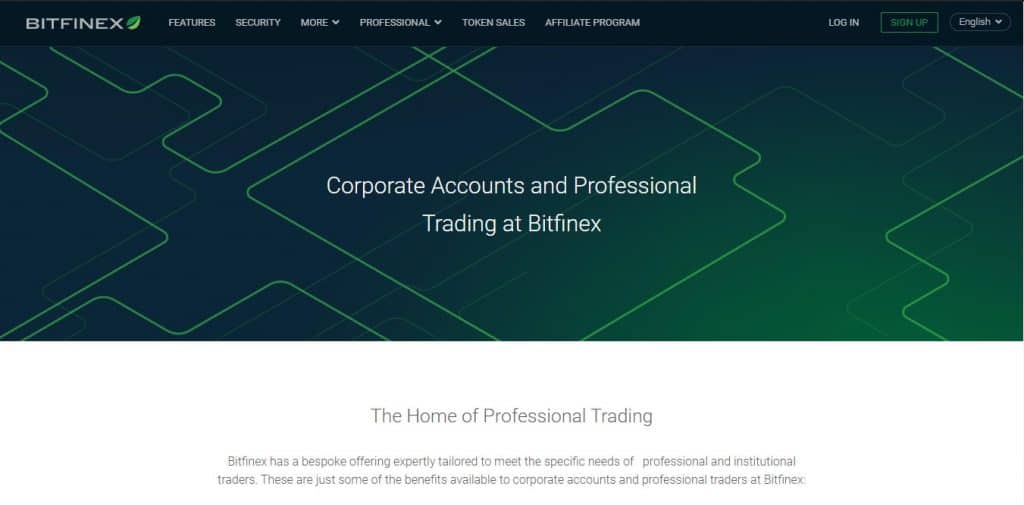 The hacks and close connection to Tether have led to worried traders in the Bitcoin community. Binance has lower fees, which is fixed at 0.1% compared to Bitfinex's taker-maker system.
Overall, Binance seems like a better choice than Bitfinex.
Conclusion – Is Bitfinex Legit?
If you're not from the US who wants to trade large volumes, then Bitfinex is right up your alley. But if you are new to the trading industry and looking to trade some crypto, perhaps this exchange is not for you.
The complicated interface and difficult deposit methods prove that it is not user-friendly for beginning traders. If you're new, it is better to trade with simpler trading platforms.
But if you're already an expert in cryptocurrency trading, you can probably find all you need in Bitfinex. It offers advanced features, aside from its high crypto liquidity, such as margin funding, leverage, and various order types.
For customers worried about the past hacks, it is safe to say that until today, Bitfinex has been extending its assistance to affected users and ensures they are reimbursed for their loss.
Overall, Bitfinex seems keen on focusing on the satisfaction of its customers.