Vantage FX – An International Forex Broker
Vantage FX is a Forex broker which supplies online trading services to traders from different countries. It was created in 2009. Now, it is registered in Australia, and its main office is situated in Sydney.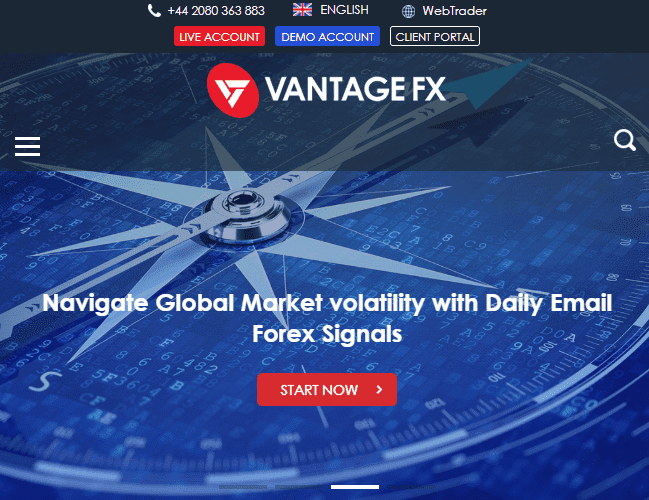 General information
Vantage FX is a company that helps people to achieve their financial goals using different trading instruments. Vantage FX says that it tries to do everything possible to make all orders more transparent and clear.
This broker supports the best trading platforms – MetaTrader 4 and 5. Thanks to a large number of functions in these platforms: trade robots, different indicators of technical analysis and many other, you can achieve great results. Also, MT4 and MT5 are a community where traders can share their advice on how to increase the quality of the trade process and increase the income with the lowest risks.
Account types
There are three account types that this broker has: Standard, RAW ECN and PRO ECN. The basic difference between standard and ECN type is in level of dealer's intervention. In ECN accounts, all orders are fully automated. Broker can only provide the platform but all financial instruments are bought only via Forex Liquidity Providers.
There are a many advantages in ECN trading:
All orders are displayed on the interbank account. That's why you can buy CFD's at a reasonable price. 

Real liquidity. Lack of liquidity is not an issue due to many counterparties in this system.

All orders are executed at the best price that is proposed by traders at this moment.

Broker can't stop order if they want do this. This can protect you from dishonest actions.

You can apply all strategies you want. You can trade on small timeframes and close orders at any time.
In general, this company proposes these conditions:
The minimum deposit – 200$. This is not a bad condition for international brokers, but many other brokers propose their customers lower minimum deposits. However, there is one advantage to this approach. There will be lower temptation to use the leverage. This is necessary for traders who have started their careers only recently.

The minimum size of an order – 0,01 lot. 

Fixed or relative spread.

Automatic trading is allowed.

The maximum leverage – 1:500.

The demo account. You can get 20 thousand virtual USD for 30 days to try the trading. You can test your trading style with it. This is good because professionals can always use the demo account for their goals. For example, they can test strategy and improve the process. There are many other brokers that propose an unlimited testing period, and you can switch between real and demo accounts. 
You should understand that conditions are changeable, and they can be different from described in this article at the time when you read it.
Binary options
Despite the fact that the main focus this broker is on the currency market, traders can also make the orders with binary options. There are 5 types of digital options that you can trade via this company:
Up/Down. This is classic version of binary options.

Above/Below. Some traders can think this is "one-touch" type. However, there is a big difference between them. You can see it immediately. Broker autonomously decides the level where order executes. The trader's task is to guess whether the price will achieve a certain level or not.  

One-touch. If you can guess what level will be achieved, you would get the money. 

«Border». Platform creates a price range, and traders have to guess whether the price will be in this corridor or no. If prediction is correct, they earn the money. 

The short-term orders. The professionals usually trade the digital options with the expiration time of 60, 120 or 600 seconds. 
You can choose what type of instruments you want to trade. There are a lot of stocks, currency pairs, indices and raw materials. 
Reliability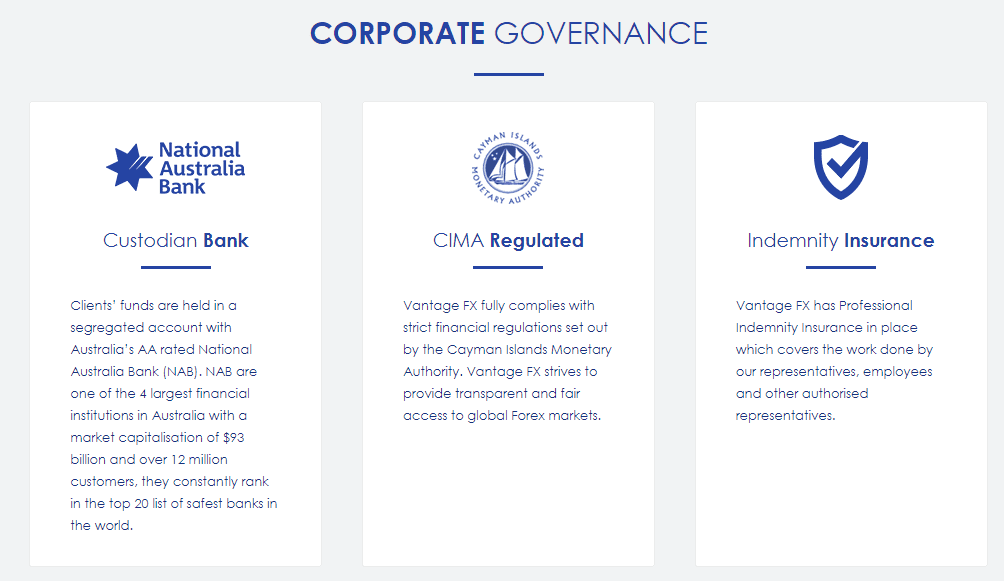 Vantage FX is a licensed broker, and that's why you can trust it. There are many factors that can prove the high reliability level of this company:
All money are stored safely. You don't have to be afraid about how honest this company is. All money of its clients are stored in the National Bank of Australia. It is one of the biggest and most reliable banks of our planet.

Australia law compliance. The main office of this company is situated in Sydney, not an offshore. That's why rights of customers are protected by Australia's government.

Insurance. All money invested by traders are protected. You can return up to 20 million dollars if you lose money due to reasons not connected to trading factors. 

There is 1 more interesting fact connected with the reliability of this company. This is an ECN-company. There is only one non-ECN account offered by this broker.
Advantages and disadvantages
Positive sides of collaboration with this company:
The high level of reliability due to ASIC regulation. You can be sure in safety of money you invest. Your result depends only on you.

There is a demo account, but it is limited.

Positive reviews from users. Many people collaborate with this company for two and more years.
Negative sides:
Lack of localization of the official site. This is bad for this company because it limits their client base only to English speaking individuals. 

You have to give your documents if you want to collaborate with this company and withdraw money. However, this is required by many different brokers. The broker has to understand if the person who registered is really an individual he/she claims to be.
To sum up
This company is on par with other brokers. It conditions might not be the best on the market, but the main advantage of this company is a strong reliability. There are many reasons why you can trust it. For example, regulation by Australian government.