TD Ameritrade Forex broker: review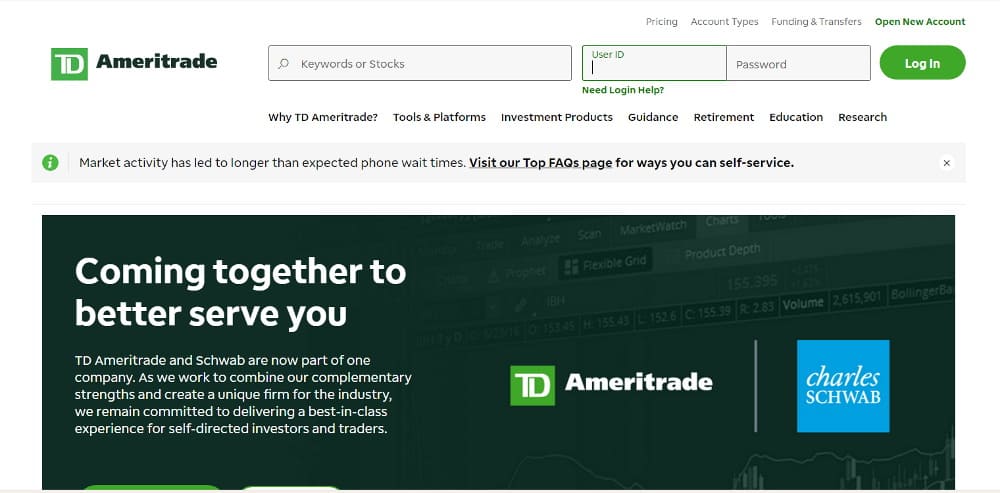 TD Ameritrade is a fairly reputable North-American broker. It is a very well-known provider, especially in the region, so you might expect them to have a higher decency threshold than usual. After all, they have reputation to uphold. The clear insight into this, however, can only be acquired from impartial reviews. 
TD has several really valuable awards to their name: best overall broker, best software, best service, best education, and so on. Some prizes have been held for a long time. However, it doesn't indicate that the company is necessarily effective and transparent, just that it takes part in many competitions and wins some of them.
If there is some connection, the reviews will show. But now, let's know a bit more about the platform proper.
What is TD Ameritrade?
Ameritrade is a thoroughly American company, as you can see from the name. However, it is also in part owned by Toronto-Dominion Bank, which is just a little fact, it has very little to do with the perks the broker is extending.
Technologically, TD gives you access to a lot of crucial markets in the industry and a number programs and alternative investment approaches (like margin and option trading). The markets include, but aren't limited to:
Stocks

ETFs

Futures and options

Cryptocurrency and usual currency investments

Mutual funds

Annuities
Generally, you get to collect and manage your own asset portfolio in one place (TD Ameritrade), because the broker allows you easy access to a lot of different asset markets, as well as means of research and education.
That's right, as any respectable broker, Ameritrade lets you actually learn a thing or two about the activities in which you're about to take part. Education allows you to learn about various trading topics from sources like articles, videos, podcasts, webinars, and a lot more. Research, on another hand, gives you an insight into current situations on different markets. A powerful combo, if used correctly.
Additionally, TD boasts about several interesting aspects of their platform:
Zero commission experience – if true, it is equally a topic of praise and worry, because the company won't just gift you money, they'll make profit by other, maybe even hidden means

Many investment opportunities – the markets mentioned above is just a tip of an iceberg, so this statement is factually true

Powerful platforms and tools – there are several web platforms, a desktop platform and a mobile platform to pick from

Knowledgeable support – a very important gear in the mechanism
At a glance, it's a decent platform, but there are certain red flags that may be heralds of larger issues. Let's see what users have to say about the provider.
The rating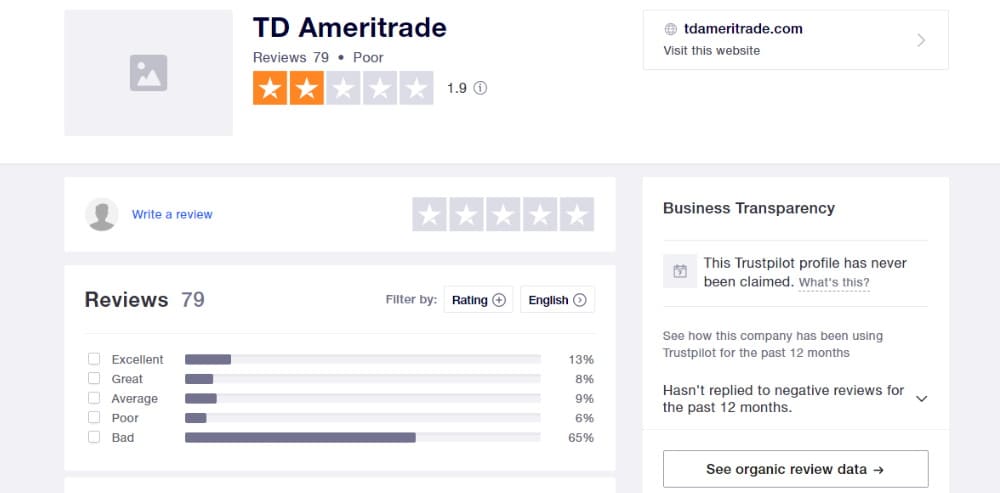 And it seems that there are truly large issues. One of the biggest Forex review aggregators – Trustpilot – reports that users on average gave the platform a 2/5. It's a very poor result with 65% of minimal reviews. Additionally the banking branch of TD is also in trouble with its customers, which may tell you about certain deep cracks in the company, but it's not really a topic.
The topic is the reasons why the TD users got so upset.
The disadvantages
It isn't too easy to discern the major recurring issues with TD, but after some time it becomes apparent what's wrong
Customer support isn't great
The support isn't too helpful, according to the reviews. The waiting time is abysmal – on phone you'll have to wait for up to an hour for someone to pick up, and the online service can ignore you for weeks upon weeks. Even after you finally contact them, they often can't help you at all because your issues are apparently the norm on TD Ameritrade.
Now, companies influencing market prices are a norm, especially if a company is an active market maker. What's not a norm is changing your own rules and showing incorrect data to the users. They actually charge a lot of fees for a 'non-commission' platform. Withdrawal may be free, but there are fees per purchase, and they know about it.
As for incorrect data, it may be a frequent technical issue or an intentional manipulation, but there are many instances of people losing money just because a company couldn't provide realistic price depiction.
It's a small issue, but nevertheless a very bugging one. It's really hard to find and use key mechanics like withdrawing, depositing and market accessing because the website navigation could use some polish. It may be fine for you, but if you are an easily-confused person, you should steer clear from TD.
The advantages
There are several very pleasant benefits of working with TD, but these don't pay off the abysmal flaws at all.
The software options which they offer their users are really excellent. Not only is there a large variety to choose from, but each tool is designed very well. It's easy to use them, and the variety of markets available on each piece of software makes the experience even better.
Conclusion
As you can see, the flaws outnumber the benefits terribly. There is actually a semi-good explanation as to why the company is so apathetic in terms of technical issues and customer service. It is believed that the pandemic made them sack a lot of people, which resulted in poorer software maintenance and longer service queues. 
It does not, however, explain why they allow themselves to tell people to basically 'get over it' when they call to discuss the issues. Or why the issues themselves are associated with factors that shouldn't even be there. In essence, the variety of features and opportunity isn't worth it, you'll be better off somewhere else. 
That's pretty much it for TD Ameritrade, thanks for reading the article!