Questrade FX Forex Broker: Reviews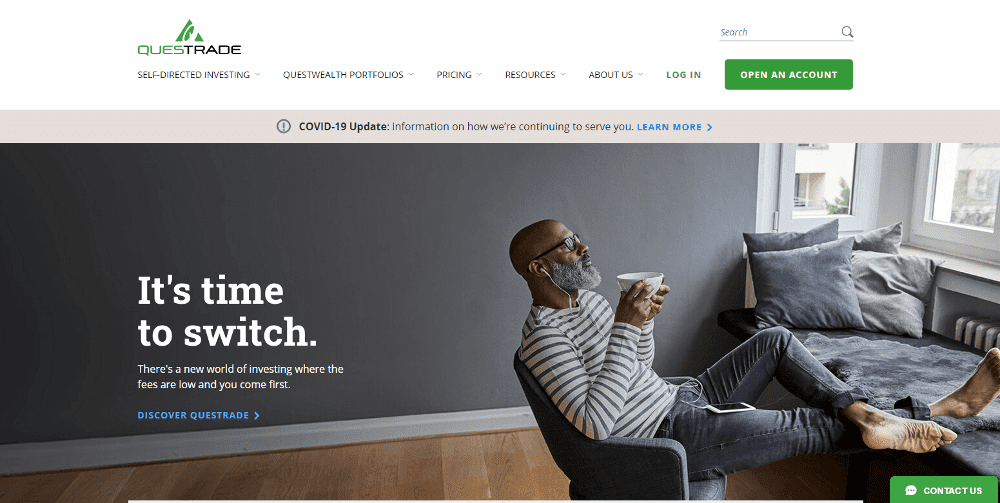 Questrade is a Canadian broker, operating in public since 1999. It's a fairly old brand, meaning if it survived this long without legal issues, it must be at least not a total scam. But only the impartial results can show the whole picture. And it's a good thing Questrade is an old brokerage platform with stable traffic. It means there are always fresh reviews about this platform.
At the first glance, Questrade has a lot of helpful content. Their main website has pages for:
Blog, webinars and other helpful guides;

Extensive pricing and requirements table to see if you can afford to work with them;

A thorough description of how they work
Let's dig deeper and see exactly what the website is.
What is Questrade?
If you look at the page titled 'trading platforms' under 'self-directed investing', you'll see that Questrade has a lot to offer both a beginning trader and an experienced user. 
There are four unique platforms to trade on, starting with:
Questrade Trading – a web-based exchange integrated into a user's own account. It is easily accessible, intuitive and simplistic. Perfect for the new traders
…and ending with:
Questrade Global – an easy-to-use platform allowing you to trade on any device and with your own favorite configuration. Good for those who already knows a thing or two about trading
Whatever platform you choose, there's always going to be a set of watch-lists, extensive and fresh market data and a space for research. It seems fairly trustworthy and user-oriented, however the real intentions of the brand's owners may be.
It can still be a scam-riddled website that won't show its true colors until you buy from it. The reviews can help you understand if that's the case.
Questrade rating
On the popular review aggregators like trustpilot.com Questrade has an average of 2/5 as of September 2020. It translates directly into 'poor' quality, while 67% of reviewers gave it a minimum amount of starts. 
It's mildly surprising because Questrade doesn't strike you as a dishonest website right away, yet there are obviously some issues with transparency. Let's see what the reviewers noted as their reasons to rank the brand so low.
Questrade reviews
Questrade obviously receives many complaints about the state of their platform. These complaints can be unified into several neat categories.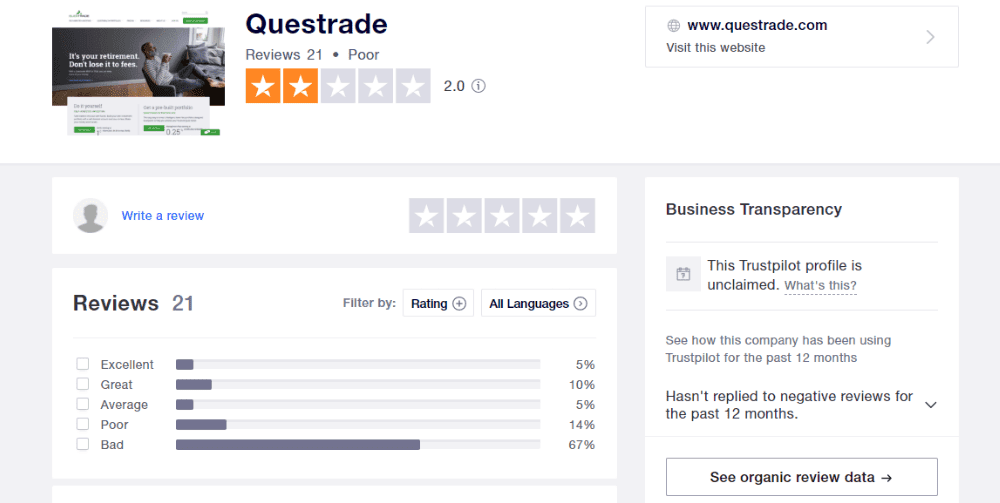 Disadvantages
Their support service is horrible. It seems that this downside haunts nearly all customers in their own unique way. One of the most reoccurring complaints is the amount of time you have to spend before you get an actual answer to your question.
One unlucky reviewer reports that they spent total of 2 hours on the phone just to receive as much as an acknowledgement from the support team. After this excruciating waiting, they just hung. Another example is the 2-months-long expectance of an answer e-mail. 
It doesn't usually take nearly as much time for other companies to contact you back. It may be just a Canadian thing, this country is notorious for their poor support services, but it's not an excuse. Helpful support is one of the key requirements for a trading platform. After all, there is money at stake.
Your funds are unsafe. It is a pretty frequent disadvantage of working with brokers, but the funds you invest aren't safe. The company can do all kinds of shady activity resulting in you either losing your money or becoming unable to withdraw them.
There are several instances of Questrade owners arresting the account with money on it for 'fraud' or other activity. And it's only after you break through to someone human or support service that you understand why they did that. They can ignore you for months and never inform you of the actual reason. It means you essentially lost the money you had on an account before the arrest.
But there's also a withdrawing problem. See, some transfer are also monitored by the Questrade employees, they need to verify your transfer in order for it to go through. Good luck with that, it can also take a lot of time. And speaking of transfers…
The fees are reportedly too high. You can't how much they'll charge you to transfer your money somewhere, because the 'transfer' link at 'pricing' doesn't lead anywhere, and apparently they may not even warn you what they take fees for and how big they are.
Since there's no clear information on the amount on these fees, you can't tell if it's too high or acceptable for you. There are still many reviews that complain about the high fees, so it's probably best to stay vigilant.
Advantages
Interestingly enough, there are several positive reviews, in which the writers tell the readers all the things they liked about Questrade. It includes quite a few of them.
The website is easy to use. It doesn't compensate for all the negative sides of this platform, but at least the users won't have a hard time navigating it. It seems to work just fine outside of the issues with tech support and funds-related problems.
Well, it's true. The company does offer you a sizeable amount of easy-to-navigate platforms, each with its own unique advantages.
The website is somewhat helpful. Disregard the horrible tech support – you get a fair number of interesting and helpful blog posts, articles and webinars to learn more about the art of trading. By all accounts, they are well-written and helpful, so it's anything but a disadvantage.
You can always conduct your research on any trading platform you pick very quickly and without issues, it's a very important factor of good trade, something many websites forget.
Summary
Questrade has many flaws. By all accounts, it's not a very good trading ground even for Canada, as people report. It does get promoted as a place where Canadian 'investors' get to feel at ease, but it's, most surely, not such a place.
But if you don't mind terrible tech support and risks of arrest, go ahead and try the website for yourself.