LMFX Forex broker: review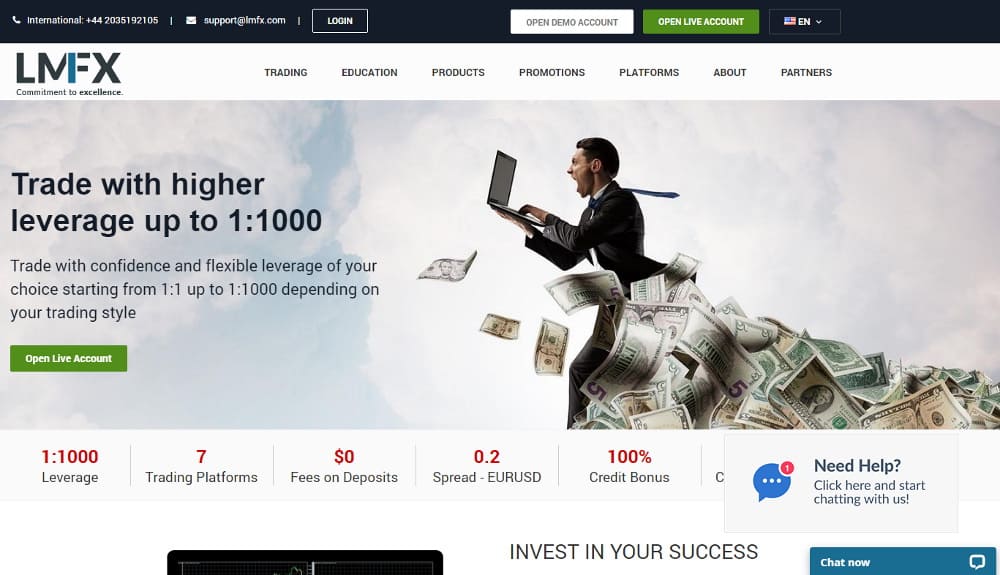 LMFX is a small multi-profile Forex broker. It's very easy to judge what you have to gain by working with them – it's all listed on the front page. Some less apparent factors are all accessible on the header – the tools, market variety, educational programs, et cetera. LMFX seems like a project that tries to satisfy every client it finds. While it's a good thing, such efforts can cause dispersion of efforts.
For a naked eye, LMFX is a very pleasant broker with much to offer to all types of traders. LMFX themselves claim that they are flexible and secure, allowing people to deposit and withdraw money with a lot of different means, all the while maintaining the safe connection, an overall favorable impression.
But only the user reviews can show where they went wrong. Before jumping to them, let's actually see what LMFX is really all about.
What is LMFX?
The broker has a lot of interesting offers for both beginners and advanced traders. You can read a thorough list of reasons why you'd want to partner with LMFX, but here's a few truths condensed into several benefits:
A large variety of tools and features to suit any type of trading, all instruments are reportedly easy to use and in good technological shape

Security in many aspects, most notably – between your bank account and the broker and inside the markets proper

A good potential for researching and learning about the trading ways to both better your understanding of the business and improve your current results
Now, the variety on the platform is undisputable – the markets may not be too extensive, they only include products like:
Shares

Forex

Indices

Commodities

Precious resources
However, the tools and available trading styles are fairly variable. For instance, you can trade using a well-known MT4, a WebTrader and 3 separate apps for iPad, Android and iPhone. In addition, you can open up several different types of account, including demo, zero, premium or a margin (1:1000 maximum leverage, mind you) account, as well as trade in CFDs or bet on spreads.
The possibilities seem very extensive, alright. However, whether or not the broker actually lives up to its promises is up to debate. Let's see what user reviews have to say.
The rating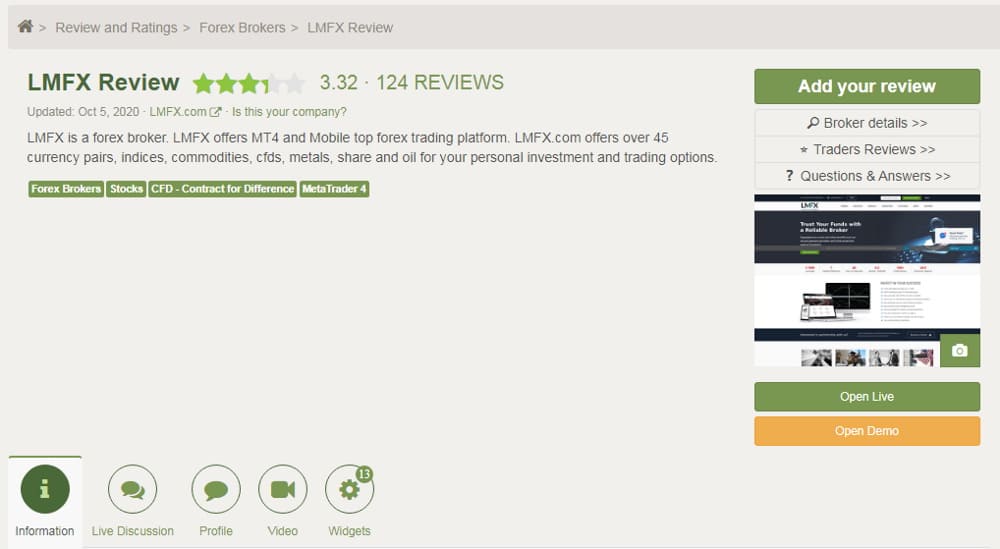 Fortunately, LMFX has found its audience amongst ForexPeaceArmy users. On FPA, the provider's rating is 3.3/5 as of October 2020. It is a fairly mediocre result, but there are worse situations in the industry. Let's see what benefits and flaws influenced the reviews the most.
The advantages
There are several recurring advantages of working with LMFX, as reported in many reviews on FPA.
LMFX doesn't guarantee fast execution of orders and good performance in any of their promotional posts or anywhere on the website. However, the processes on the market take very little time to go through, and it can't be underestimated. 
Given that many brokers actually guarantee fast execution at all times and then experience shutdowns and lags, it's very commendable for LMFX to live up to the expectations of what a good broker should look like.
Customer support is not bad
LMFX users do suffer various problems, like slippage or mysterious money loss. Most of the time, however, the support team proves very helpful in either resolving the issue or explaining why the certain incident happened. It mostly doesn't take them too long to answer your plea and conduct a thorough investigation, either. Overall, the support is doing a very well job.
The fee stance that company takes favors users in the large part. Firstly, in most cases there are no commissions on lots or deposits. Secondly, an average spread pip size is at ~0.2, but in different scenarios they can start with 0 pips or 1 pip. Thirdly, and a bit less relevantly, the leverage can go up to 1:1000, which makes the margin trading here potentially riskier and more profitable (again, potentially).
The disadvantages
Naturally, given an on average mediocre rating, LMFX must have some crippling issues that make the entire user experience much worse than it would be without them. Well, there is one.
As usual, there are more issues with withdrawing funds than with depositing them. Probably because every broker company in existence takes more effort to make sure the money comes to them, all the other aspects of money traffic aren't that essential. The issues are actually far-ranging: starting with, despite the promises, a poor variety of means to withdraw, and ending with different delays and technical deliberations.
It's not that detrimental for the user experience, per se. They don't generally steal the money during the withdrawal period (like others do), but the inefficacy of the entire withdrawing process is upsetting.
Conclusion
Despite the advantages outnumbering the disadvantages, the rating is still pretty low. The only frequent issue from the broker's side is an abysmal withdrawing process. The requests take years to process, and then it may take even more time for the funds to finally arrive.
Additionally, there are minor problems throughout the platform associated with poor management, but LMFX is still a fairly decent platform, and the only real issue is the absolutely infuriation withdrawing process.
In the end, there's no reason why you shouldn't try LMFX out, but prepare for the issues in the finance management field.