"Interactive Brokers" Review: Is it a trustable choice?
Interactive Brokers is not a famous name in the Forex industry. However, it still has leading positions when it comes to professional low-cost trading. It uses a unique trading platform which is totally different from the well-known MT software. Do you think that this broker is a safe choice? Read our Interactive Brokers review to find out!

About Interactive Brokers
The company was founded in 1978 and is considered to be the biggest American discount broker. Because the service works in many countries, like the USA, Canada, and the UK, it is regulated by a number of authorities. An example is the UK FCA or the US SEC.
These points already make us think that Interactive Brokers is safe and can be trusted. It works for a very long time, and there have been no significant issues during the whole period of its existence. The company is also listed on a stock exchange, and this is a very good sign.
What can you do with Interactive Brokers?
Interactive Brokers is a clear winner when we speak about day, futures, and options trading. The mobile application is also very comfortable which gives the company an additional advantage when we speak about mobile trading.
With this broker, you can work with more than 130 markets in 33 countries. You get access to stocks, options, futures, spot Forex, metals, bonds, ETFs, mutual funds, and more! The company has a very broad number of choices. For instance, if you choose to work with Forex, there are 23 currencies waiting for you to make profits!
Trading platform
At the beginning of our review, we have mentioned that the broker uses a unique platform, and we did not lie to you. Interactive Brokers uses the Trader Workstation or TWS platform that works with almost anything. Although the software is designed for experienced traders, newcomers can surf the internet for tutorials to boost their knowledge of how everything works.
First of all, the software has a huge number of tools that can be used. You will find a risk navigator, a market scanner, a strategy builder, and many other tools that will boost your performance on the market. In addition, there is the IBot that works in the mobile version too. It can easily find any information you need via voice or text. For instance, you can ask it about the price for GOOG at a specific time.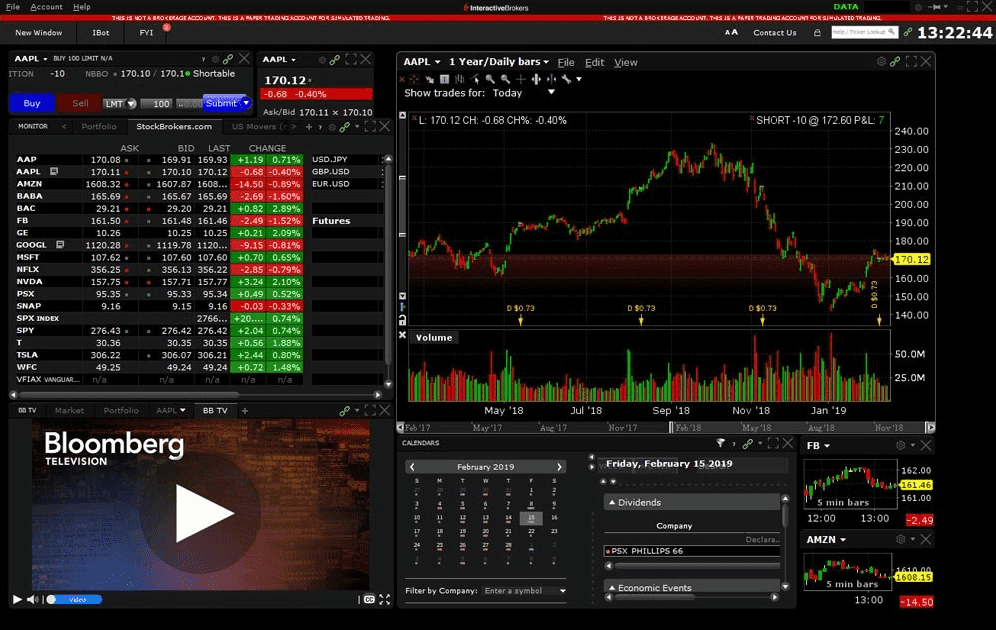 Customer service
The customer service at Interactive Brokers is at a high level. If you use the mobile hotline, it will take you less than two minutes to get connected with an agent. Mostly, the people working there are true professionals who know what they are talking about.
It is also possible to start a live chat with the company, sent an email, or upload a fax. The best part is that your issues can be solved by using iBot. This little helper will try to search the FAQ for your issue, so you would not have to contact live agents. Try it out!
Mobile trading
Interactive Brokers has made a great job while optimizing its software for all devices. You get access to all features on your mobile phone and everything loads quickly. It is possible to stream data, get information, use 70 indicators with a possibility to customize them. However, it is impossible to compare stocks and indexes. 
The main disadvantage of the mobile application is that it does not send push notifications about stock alerts. They are sent to your email, and this requires more time. This way, you might lose a great opportunity to make some profits.
Advantages and disadvantages
We have gathered the positive and negative sides of this company into two separate lists, so our readers can easily find the main information without reading the whole review. We hope this helps you with your research.
Pros
Many products to work with

Professional trading platform

Regulated by many authorities

Many trading tools
Cons
Not suitable for newcomers trading platform

Difficult registration process 

If you are inactive, you have to pay too much
User opinions about Interactive Brokers
There are many different customer reviews on the internet. The majority of opinions are positive, and this adds up to the other good sides of the broker. In our research, we have visited many rating websites and forums to find out what people really think about the company. This is what we have got.
Here is what Danny Persaud thinks about Interactive Brokers.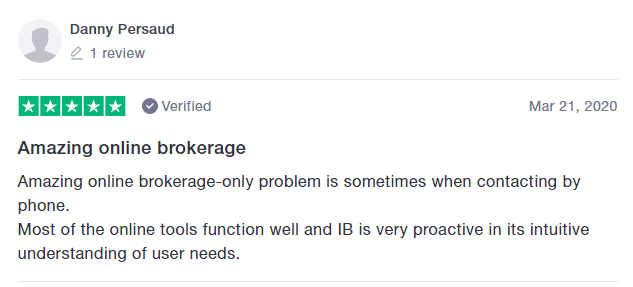 He says that the company is great, but he has encountered some issues when trying to contact the support via phone. The tools provided by the broker work as they are supposed to, and the IB is quite intuitive for Danny.
Here is what John thinks about Interactive Brokers.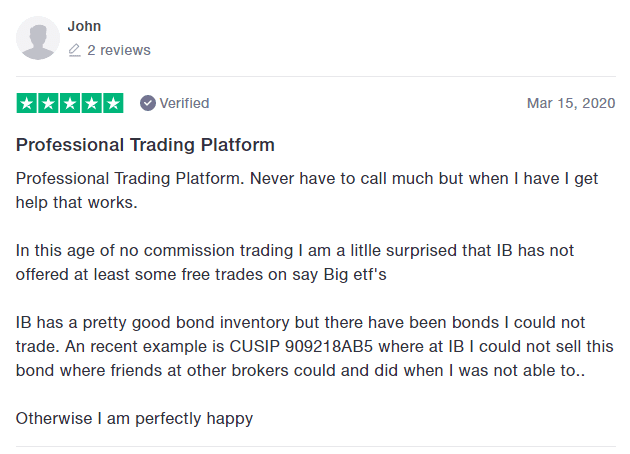 John says that the trading platform is truly professional. Whenever he had encountered an issue, he reached out for help and the tips given by the customer support have helped him a lot. The fees completely satisfy him, and he is glad that he works with this company.
Conclusion
Interactive Brokers has all signs of a decent and legit brokerage company. The regulations, reviews, and many other details show that users can trust it. The service provides a unique trading platform that is a great option for professional traders. However, beginners will have many difficulties with this software. The service also provides mobile trading software and has low fees.
What was your experience with Interactive Brokers? Let us know in the comments below!