Instaforex broker review: is this company trustworthy?
In the trading field, you can encounter scams on each step. This makes it hard to trust your funds to a company without checking any information about it. However, it is important to remember the fact that there are many fake reviews that deceive traders even more. To help you choose the best service among many options, we have prepared our own Instaforex review.

About Instaforex
The company was founded in 2007 by InstaTrade Corporation. If we check the content on the broker's website, we can see that it has got more than 7 million registered traders. The company states to have more than 260 offices worldwide: Russia, Indonesia, Pakistan, Nigeria, and many other countries.
The company is licensed by the FSC under the SIBA in the British Virgin Islands. In addition, the broker is regulated by CySEC, so this makes us consider the broker a reliable choice. Nevertheless, we need to see all the details and that is why we move on to the next step.
What can you trade with Instaforex?
The name of the broker already indicates the main product: forex pairs. There are, however, some other assets too that are used to diversify the available options. Here is a short list of the provided products:
More than 100 Forex pairs

More than 88 CFDs

7 indices

5 cryptocurrencies
The list of currency pairs is huge. If you check out the tables on the broker's website, you will see that also spreads, leverage, and other factors are included in the sheet.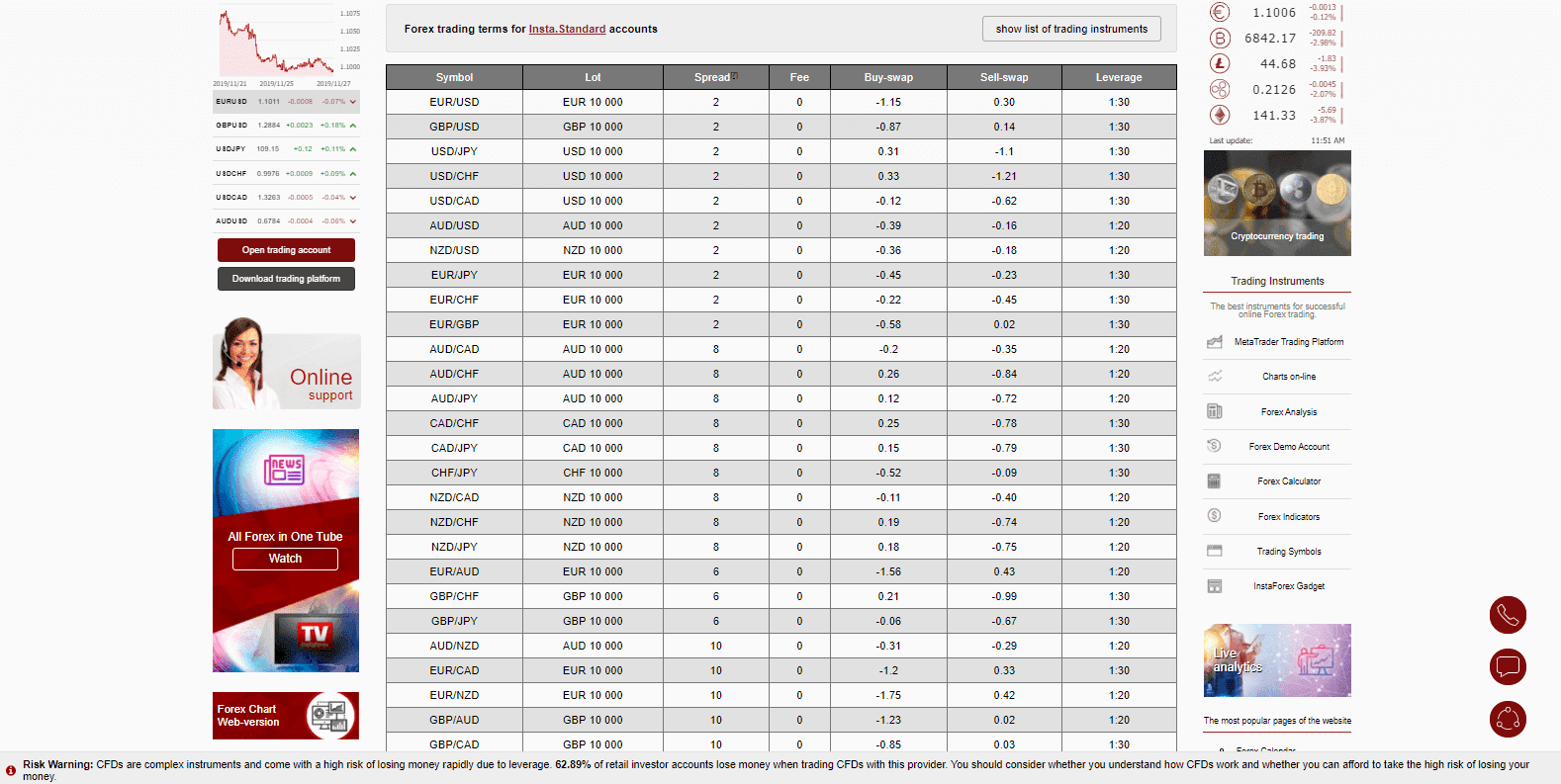 However, we must note that the spreads and other fees are variable and they completely depend on the chosen account type. This information will be reviewed below.
Account types at Instaforex
If you have worked with other brokers before, you must know that there usually are different account types. Instaforex is not an exclusion. The company provides 5 account types, each with its own benefits. We shall briefly explain each option.
In this case, traders are provided with a fixed spread between 2.0 and 7.0 pips. There are no deposit restrictions, but you must be aware that the commissions will eat into your profits.
If you decide to choose one of these account types, be ready for flouting spreads that start at 1.2 pips. There are no additional commissions. The minimum investment is increased to $100, so it isn't a very good choice if you have a tight purse. Still, none of these options are profitable enough.
Step by step, we have reach an account type that appears to be quite profitable. Both minor and major currency pairs have spreads that are at 0 pips and commissions that vary between 0.02% and 0.07%. In addition, there is no minimum deposit requirement and this makes it the best available choice.
Finally, if you use ECN Pro, you will get spreads that are on average at 0.8 pips without any additional charges. The famous ECN model with raw spreads and no commissions at all is used here, so if you are a fan of it, this account is a good choice. 
Basically, only the last two account types have any value for people who really want to make a living with trading. The first three options may only be suitable for beginners to try out the service and industry.
Trading platforms
Instaforex uses only the MetaTrader software. If we specify, only the MT4 platform is available. It is not a surprise because this program has been the leading choice in the field and has a lot of positive reviews.
The platform is available on desktop and mobile. You can view 9 time frames, use a variety of tools for technical analysis, read financial news while trading, create your own indicators, trade in one click, and more!
Customer support
The customer support is well-built in this service. There are several emails, phone numbers, messengers (Telegram, Skype, etc) that are used to keep in touch with their customers. A good thing is that the support also has different departments: technical support, clients relations, finance department, dealer department, and partner relations department. Each has specified work hours. Only the technical support is always available.
Generally, the broker works in English and Russian. However, the company's website is available in many different languages: French, German, Polish, Vietnamese, Italian, Romanian, and more. This is a good sign because it shows that the broker wants to provide high-quality support.
Clients reviews about Instaforex
If we have a look at the statistics on Trustpilot, 50% of all reviews stated that Instaforex is "Excellent" and 15% state that the company is "Bad". The difference is quite big, so let us have a closer look at the opinions that are presented on this resource.
A user with the nickname Iisak writes that he is completely satisfied with working with Instaforex. The company gave a bonus because of the quarantine and this helped the trader work without spending his own funds.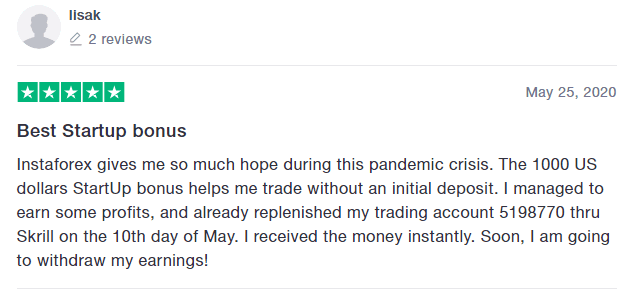 Another user, Shamus Finley, mentions that Instaforex is a fraud. The client writes that he warned the company that he was ill and couldn't work. However, he was persuaded to take a loan and make a deposit to earn some money. He was also promised to get a personal analyst to do everything instead of him. As a result, the money was lost and the analyst was not given to the account.

Final thoughts
Instaforex is a regulated broker that has both positive and negative reviews. There are 5 account types with various terms, but only 2 of them seem to be truly profitable. Only the MetaTrader software is used. The customer support is available in many different languages and is very easy to get in touch with.
What about your experience with this broker?