IG Group Forex broker: review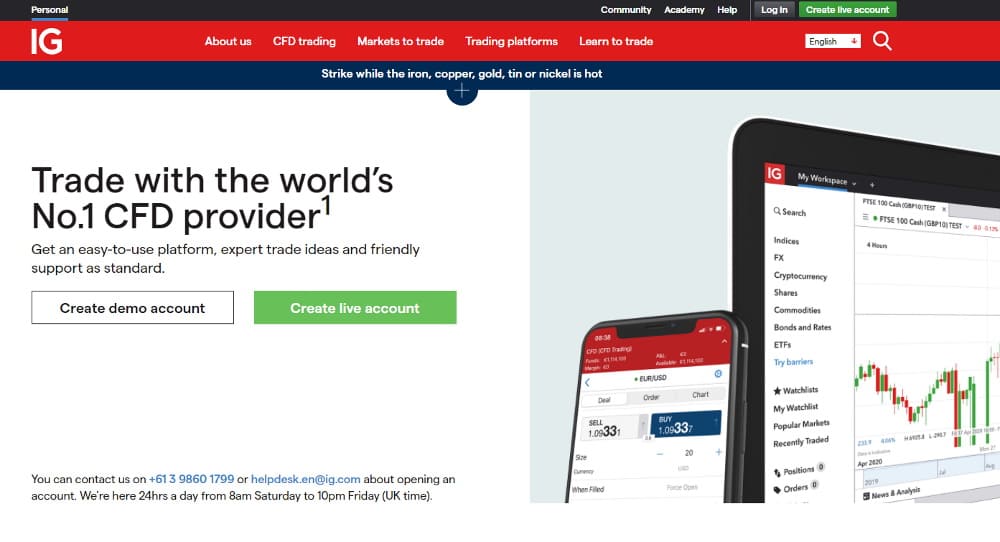 IG Group is a prominent broker that specializes on CFD investing. It is, in fact, a fairly old and well-known British company, so you can at least assume that it'll try to behave accordingly (only user reviews will tell the bigger picture, however). 
The company itself has been around since 1974, but the Forex broker that you know and (maybe) like has been started in 2003. In fact, it's more successful than 90% of the brokers on the market, and it's interesting to see what made them so profitable. 
At a first glance, IG has a lot of instruments to offer, both in terms of investing itself, and the infrastructure that surrounds it, like customer support and educational content. Nevertheless, only the impartial user reviews can tell if they are any good.
For now, let's see what IG Group has to offer exactly.
What is IG Group Broker?
If you look closer, you'll see that IG indeed has a lot of content. The investing itself can occur on different platforms, not only MT4, but also L2 Dealer and ProRealTime. The available markets include Forex, stock, indices, futures, commodities, crypto and a lot more.
But the cherry on top is the variety of approaches. You can set up an account (or maybe try demo) and start trading in different ways:
CFDs – Contracts for differences; a very on-demand approach that lets you invest and rip benefits without having any asset on hand

Spread betting – 'will the price grow or drop?'

Usual investing – just ripping benefits of the things you own
The first two are based on derivatives – you don't need to own any assets to make profit, and it's a good starting point for beginners or small-time traders. Additionally, you can trade on leverage (margin). Given that the company is reportedly regulated from above, it's a good feature.
Additionally, there are many ways to actually trade with IG:
Mobile app

3 different trading platforms

APIs

Trading alerts

Trading signals
And it's not all. IG really has something for everyone. But do they live up to the impression?
The rating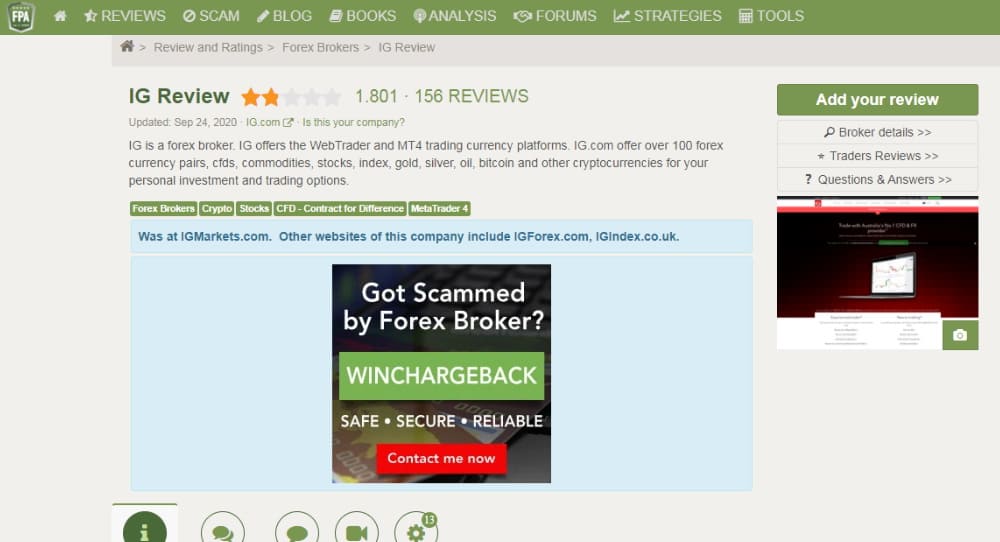 Interestingly, the two most popular Forex review aggregators have largely polar ratings of IG. Trustpilot has got 3.8/5 on average as of October 2020, while ForexPeaceArmy users rate it at 1.8/5. It's a wide rift, because 3.8 rating implies great user experience, while 1.8 is near abysmal.
What could upset the FPA users so much? Let's see both pros and cons and compress these into general impressions.
The advantages
IG Broker is nice, but it doesn't have too many really outstanding features. Most aspects are alright or just… there. But you can mark a few really good things about them.
The users especially like the live chat, saying it's helpful and quick. The regular support also helps, but it can be a little more delayed. In essence, the agents are very apt in resolving your issues and answering the questions (but it's better to ask them in live chat)
Educative content on IG is really one of the things you can't scold it for. Here, you can find news, analytics, special reports, and a lot more. You can really spend your time productively on IG just by studying different aspects of trading and investing. They have a lot of experience and wisdom to share, so don't worry about the quality of content.
It's already been mentioned, but it's doing it again. The variety you get here is very wide. Whatever suits your trading style, you can find it here. And if you are still new and can't decide on the best approach, you can take a peek into an educational section and see what professionals have to say. All in all, a very variable and thorough provider.
The disadvantages
There are several really disappointing cons in working with IG. It actually took a while understanding what exactly is wrong with the platform.
This platform is not for small traders. The fees and commissions are abysmal. You can see all the tables in 'charges and margins' page on the website and see if they are to your liking, but they apparently are far from such for an overwhelming majority of the reviewers.
It seems that it's uncommon for this broker change the rules and conditions of trade right in the middle of the process. Reportedly, they frequently influence the open positions, margin rates and volume, and generally your money balance as it suits them. They generally don't even cover their actions with rules or conditions, they just do it. 
Maybe all those upset reviewers ignored some warnings, but it's unlikely. Even if it is so, they should rework their policy, then.
It's unclear whether the issue is technical or manipulated, but the prices sometimes don't represent the price that you currently decided to close the position on. It happens fairly frequently, and the total losses inflicted by this reoccurring issue are devastating. If it is technical, it means the problem is even deeper, because apparently IG can't support the extensive infrastructure they themselves built.
Conclusion
The cons and pros are equally meaningful, but here's a little insight. The majority of the good reviews on Trustpilot (and the majority of them is about good client support) are from new reviewers. Almost all of them have just one review – the one they left about the platform.
It doesn't mean that IG paid them off, per se. The case may be that they were simply asked to leave them or were so impressed with the support that they just left necessary to leave them. It's unclear.
In the end, IG Broker is a dubious provider, and you should be very careful while investing with their help, and probably just invest on a small scale. Thank you for reading this.