HYCM broker review: is it truly legit?
Finding a legit brokerage service is very hard. There are many scams, fake comments, and it is really difficult to understand which service is really trustable. That is why you have to read a lot of information and analyze it on your own. We have prepared this HYCM review to help you see whether the service is really trustable.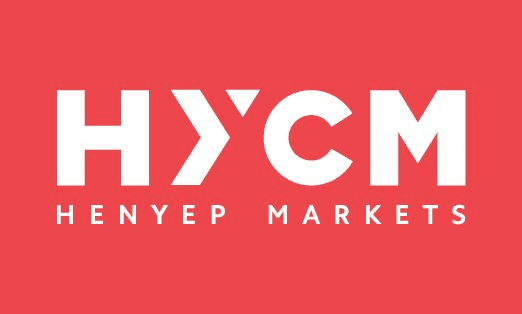 About HYCM
The company was founded in 1977. It has more than 40 years of experience. The broker is regulated by several reputable authorities: FCA, CYSEC, CIMA, DFSA. However, the company itself is located in Saint Vincent and the Grenadines which is an offshore zone. Therefore, despite all these regulations, investing your funds here is a bit risky.
It is not listed on a stock exchange and is not backed up by a bank. This is not very good, so it also works as a red flag for us. Read on to find out more about HYCM.
What can you trade with HYCM?
The brokerage service provides a number of assets that can be traded. These include:
69 currency pairs for forex trading

225 CFDs

Cryptocurrencies that are available as CFDs
There are not many product types, but there are enough assets in the available categories. You can also copy the trades of other users, the company made Copy-Trading available.
Fees at HYCM
The fees that are charged from a customer depend on his account level. For instance, the spreads for the most popular EUR/USD pair is 1.8 pips in the fixed account type and an average of 0.6 pips in other types. For the BTC/USD pair, you are charged 1%. If your account is inactive for some time, you will have to pay $10 each month.
The minimum deposit for all types is $100 for all accounts.
In comparison with other companies, HYCM is somewhat expensive to use. Such companies like CMC Markets are much cheaper. Keep this in mind if you care about every penny.
What platforms does HYCM use?
ust like many other competitive companies, HYCM uses the MetaTrader software. Moreover, it does not use any other platforms and has not developed its own program. The service is also available for mobile phones and tablets, so you can trade from wherever you are. The be specific, here is what HYCM provides: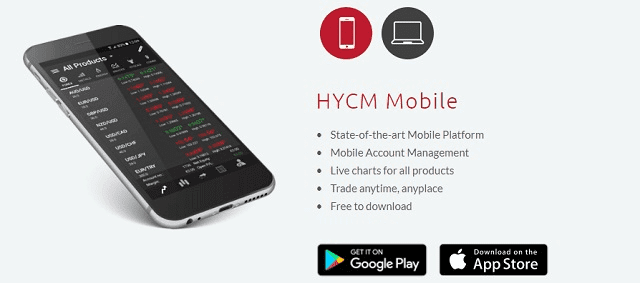 Both programs are quite comfortable and include many useful tools and instruments. It is the best choice in the industry, so it is good that the broker decided to use these platforms.
Customer support
Many users appear to be disappointed by the customer service provided by HYCM. It appears that the average connection time is near 5 minutes and the answers of the agents are completely unprofessional. People also state that it is not rare for the company to ignore any requests from its customers.
If any assistance is required, you can contact the support via Live Chat on the website. In addition, you can use several messengers like Viber, Whatsapp, Skype, Telegram, and Facebook Messenger. If it isn't urgent, check out their FAQ. It covers some general issues that are usually encountered by most users.
Education
It is important to note that HYCM has a complete section related to education. It includes many articles that explain how forex works, what is index, how to choose assets for trading, and other stuff like that. We have checked out some of the articles and they seem to be quite good for beginners to get a basic understanding of how everything works.
Customer reviews
The majority of customer reviews about HYCM is positive. According to Trustpilot, 49% commentaries are Excellent and only 13% are Bad. However, it is a bit suspicious that many reviews are reported by the company for the "breaching of Trustpilot guidelines". This could be the removal of bad opinions or the users really went against the rules. We can't tell for sure.
Here is what a user with the nickname Zitka writes about HYCM. She says that the trading conditions here are safe and you do not have to worry about the security of your funds.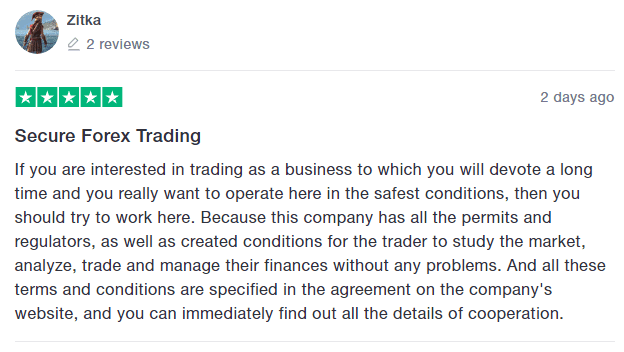 The user also states that the company is regulated by many authorities and this is another reason to trust it. However, you must remember to analyze the terms and conditions on your own before working with any broker. There might be some surprises!
Another user, Robert Gerdo, states that this company is reliable. He mentioned that easy withdrawals are the sign of a good broker and HYCM is just like that.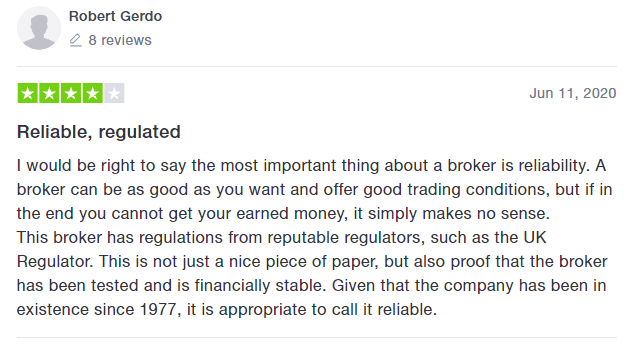 Robert also states that the regulatory authorities that work with HYCM are quite reputable and that is another bell to trust the company. The experience it has got in the field is just another reason to trust it.
One more user with the nickname Gentel says that he feels comfortable with HYCM and he feels satisfied by the service.

The user has changed account types to control the spreads and says that he spends up to 6 hours trading every day. He is glad he left his full-time job and writes that is was the best decision so far.
Conclusion
HYCM or HY Markets is an experienced company with over 40 years of experience in trading. It is regulated by many authorities and seems to be trustworthy. However, there are some suspicions because of its location. The company is based in an offshore zone where most scams locate their headquarters. According to the user reviews, the broker actually lets them withdraw their funds and provides comfortable terms for trading.
What about your experience with this company?