FXPRIMUS Forex broker: reviews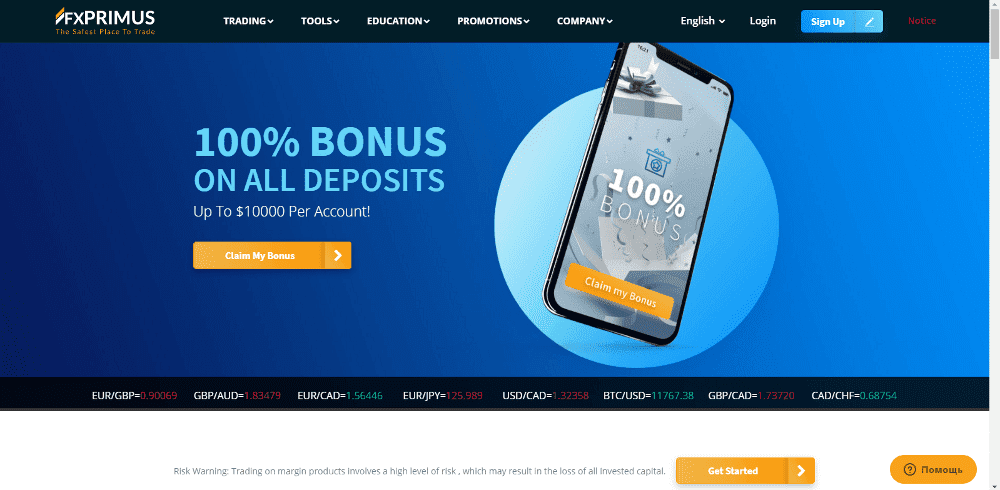 FXPRIMUS is a small broker (based on their traffic data). Their motto and the main promotional label is 'the safest place to trade'. Right off the handle, the website doesn't have a lot of good reviews (more on that note below). It may be a safe and yet a terrible website, or just a terrible website. It all needs looking into, however.
FXPRIMUS allows its users to trade in all the major resources, including metals, cryptocurrency, indices, energies, and of course Forex. They don't give you a large variety of tools to do it, but they it seems they are trying to compensate it with safety. Let's see how well they manage it.
But first, let's examine the platform itself a bit.
What if FXPRIMUS?
If you go to their 'who we are' section of the website, you'll get an insight into their core values. Most of the text on this page is about safety, one way or another. You can also read through their legal requisites in the bottom of the page, if you like. At the very least, they give you an opportunity to reach out to them and sue them – an act of transparency, if you will.
On another note, they also mention a few of the other priorities they share:
The speed of execution

The 'holistic' (thorough) education
The education tab isn't as holistic, however. In practice, you can sign up for a seminar in the future or watch 9 of their educational videos. There's also a non-existent 'blog'. It's interesting, because the brand isn't new. It was around since at least 2012.
The trading instruments are represented in the 'tools' menu, and they are a bit underwhelming. The website supports MetaTrader 4 and several other API services, but not MetaTrader 5. This software has been available for 12 years now. Well, at least all the popular trading resources are available, and the support works 24/5.
The ranking
On several popular review aggregators, the FXPRIMUS' ranking sits just below 3/5, which translates into 'poor'. What FXPRIMUS does to earn the reputation of a poor experience can be picked up from the user reviews. Fortunately, there are plenty of them.

The disadvantages
Sadly, it seems that working with FXPRIMUS implies a heavy amount of disadvantages. Here are a couple of the major issues, according to the user reviews.
There's always a risk of funds freeze. Freezing the funds of a certain client can be interpreted as a safety measure. Unfortunately, a lot of scam websites use this pretext to steal your money. In case with FXPRIMUS, it's unknown which of the explanations is more likely.
Over the years, there were many instances of FXPRIMUS users complaining about their funds being frozen for no apparent reason. The cues for the funds arrest are intertwined with the pair of other disadvantages: the money withdrawal problems and the support issues.
But the bottom line is this: your money here is always at risk.
There are problems with withdrawing your money. Depositing your money is easy and fast. So is the earning money through trading. But there's always a risk that your deposited money will be confiscated. Same with withdrawing – the process can last for some time, and then you'll get notified about the confiscation.
Most of the time, they justify it by preventing fraud or improving your safety. However, there is evidence that they go as far as confiscating your deposit the day after you've done it.
After that, you have 3 available options:
Write them directly about this incident;

Try to sue them – after all, they've given you all the requisites;

Write a review, like hundreds before you
However, there is an issue with their support. Asking the company for help and for the return of your money is reasonable. Nevertheless, such plans can meet obstacles. See, their support may be operating 24/5 (all week round, except the weekends), but you'll still have to wait a lot of time for the reply.
And a large portion of those who left angry reviews haven't ever received a reply. 
It's not to say that the support is defunct. They write the replies to the reviews on the platforms like forexpeacearmy.com and others. It seems that the only effective way to get a reply is to write a review, not a message to support.
But even then, the reply gives you reasoning behind the confiscation, they don't seem to give the money back. It may seriously be a security measure, and all those people could be rule-breakers, even if unwilling. But it seems we'll never know.
The advantages
Funnily enough, the most common benefit of working with FXPRIMUS contradicts one of the biggest downsides of said working.
The service seems to be superb. It's a contradiction of the highest order, but the majority of the positive reviews report that the support and the service are great. The writers receive replies shortly after they've submitted the inquiries to support, and the staff seems to know what they're doing.
Furthermore, it coincides with their review policy. They actually leave replies for both good and bad feedback, which would be surprisingly transparent for a scam company. 
There are several possible answers to this inconsistency:
It's possible that the reviewers who reported a poor experience simply weren't lucky and were handled by the incompetent staff members;

The bad experience from the reviews may be well-earned, the theory that was mentioned before in this article
Still, the instability is an atrocious aspect if you deal with brokers.
In conclusion
FXPRIMUS may be a fraud platform or simply a flawed website. But one thing is clear – it's an inconsistent broker with poor background. Your funds may be at risk here, or it may be a smooth experience.
If looked at from a technical perspective, there are better websites. If something caught your eye on FXPRIMUS, and you want to start working with them, do it at your own risk.