Exness Forex Broker: Reviews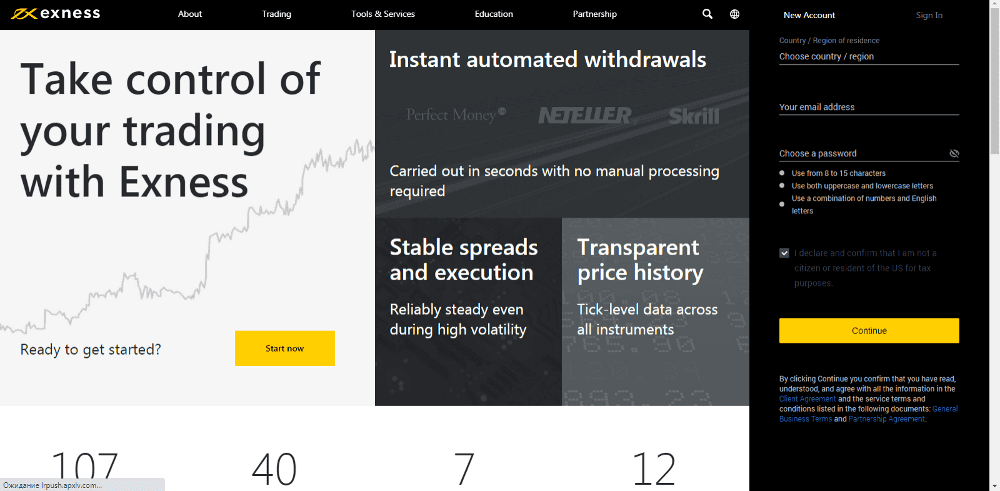 Exness is a Russian brokerage provider started in 2008. Based on the search numbers, Exness seems to be a rather popular website. It's good, because this way you can find many fresh and unbiased reviews on different large aggregators.
The platform specializes in the various currencies and commodities, including:
Metals and other valuables

Cryptocurrencies

Stocks
Exness has a lot to offer if you want to delve into CFD trading. However, it's obviously not flawless. The reviews can show you a bigger picture, but, for now, let's figure out what Exness is exactly.
What is Exness?
The Russian trading platforms aren't terribly popular in the West – they don't have a reputation of being reliable. Don't worry, however. This platform isn't exactly Russian. True, it's made by Russian specialists and it supports a large amount of Russia-oriented services (like the ability to withdraw funds into specifically Russian institutions).
If you were to contact their support, however, you'd see that they expect to deal with Westerners once in a while. There's no risk of miscommunication. The company provides client support in 13 languages, as they themselves claim. Funnily enough, they provide it 24/7 in English, and only 24/5 in Russian.
Precautions aside, the functional side of Exness is reasonably extensive, and yet pretty basic. The company provides its customers a wide variety of tools for trading, including MT5, MT4 and the WebTerminal (an app for browser trading). 
The company also offers a helpful, but not as thorough learning base for traders. Whereas other brand have an easily accessible blog with tons of posts and articles in it (not to mention webinars and videos), Exness provides a somewhat limited 'academy' page with several articles about trading.
What's commendable is that they have:
A Glossary, which is an ABC-based list of technical terms and other information about trading. It is very helpful, because most brand simply expect the beginners to somehow know what every name stands for;

The Insights and Analysis, a page with articles consisting of tips and in-depth analysis of different aspects and instruments of trading. Very beneficial to read this before diving into trading
Other than that, Exness doesn't give its users anything revolutionary, just a basic, albeit an extensive, toolbox with instructions attached to it.
Exness ranking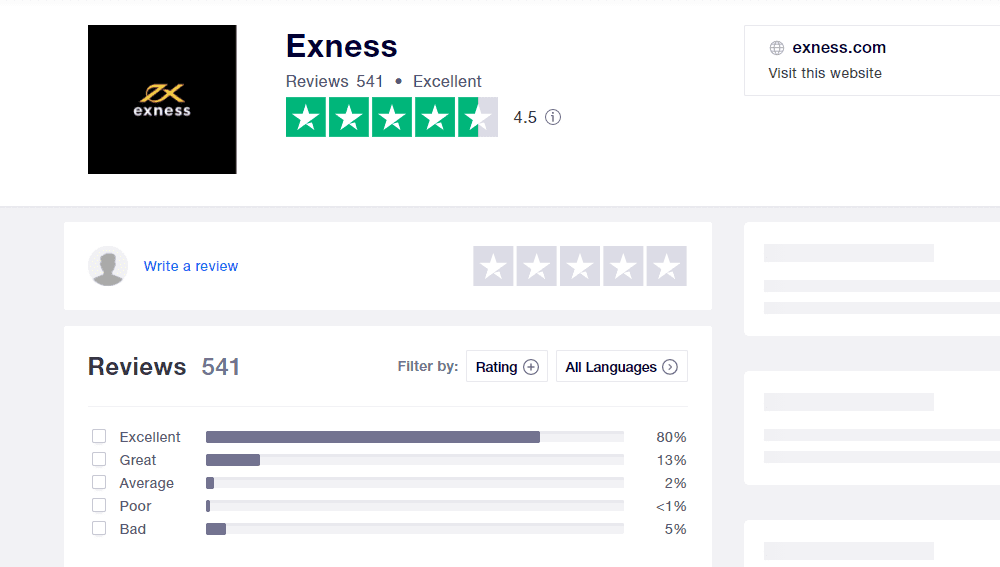 Great thing about non-English companies, you get to read the reviews in the native language of the large portion of their users, like Russians, in this instance. Granted, you have to know the language, but it's just details.
Exness has a very high average rating on different review aggregators. For instance, ontrustpilot.com it has 4.5/5, which translates into 'excellent experience. You can see that a total of 80% reviewers marked their experience with Exness in this fashion (as of September 2020).
Positive reviews
Exness is overall a pleasant platform for trading, so much so that you can't at first identify what parts make it pleasant. There are several extremely helpful aspects, according to review platforms and Reddit.
The tech support is great. The customer service on trading platforms is a double-edged sword of sorts. In half the websites it's atrocious, in another half – it's excellent. Exness fits the latter category.
The support team is said to answer your calls and messages fairly quickly and help whenever they can. The very fact that they work 24/7 speaks for itself. There are instances of people losing their money for some reason or having technical problems. Exness' tech support helped them out in the matter of hours.
Generally, you won't have any problems with them if you trade in accord with the terms and conditions. These you can read on their official website.
The withdrawal speed is exceptional. One of the company's subjects of boasting is their withdrawal speed. You can withdraw your funds to your account (granted you've done it without breaking the rules) in a matter of hours. Some companies hold onto your money for days, sometimes even weeks.
The secret behind such speed is simple – they don't manually check every transaction. Because of this practice, the transfers on some websites can take forever. On Exness, however, the mechanism is automated.
Negative reviews
Despite the positive feedback, Exness still has flaws. Here's a few of them.
The rules are Draconian. Easily half the bad reviews are there because the writers unknowingly broke the rules or conditions set by the company bosses. They don't necessarily know they did it, because they either couldn't find the rules or didn't bother to find them. But the rules are pretty severe, especially the withdrawal conditions, you should go see them before jumping into trading with Exness.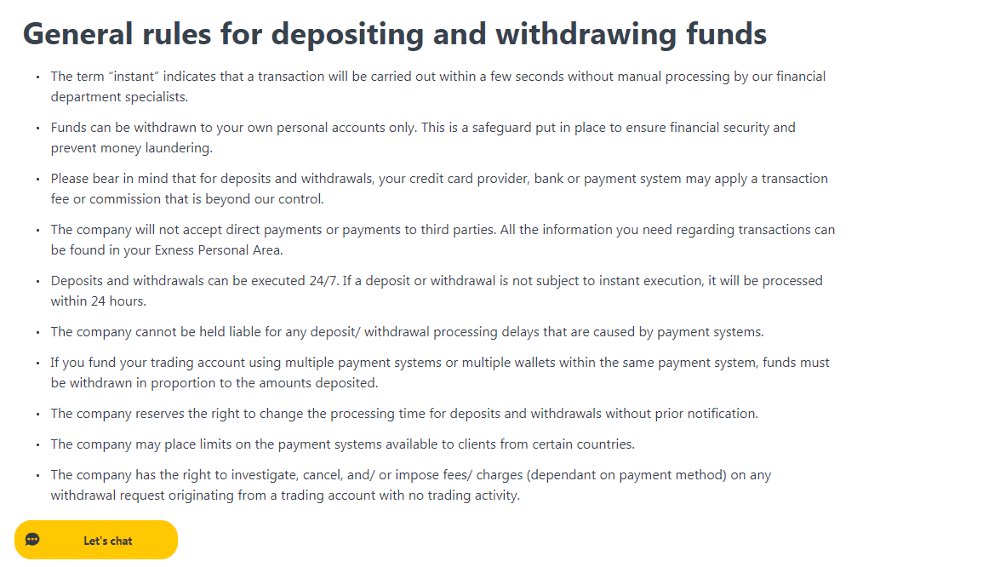 But break some rule or other, and it'll drag on, until the staff makes sure you're not breaking their terms. It's all in good faith, however, because the rules are there for security. The existence of these rules guarantees the faster withdraw speed.
So, it's just a minor setback.
In conclusion
All things considered, Exness offers you a comfortable experience with all the necessities. It's not a luxurious platform with astounding advantages. All it can boast is good service and fast transfer speed. Keep in mind, however, that the brand also barely has any flaws.