DowMarkets Forex broker review: Features summary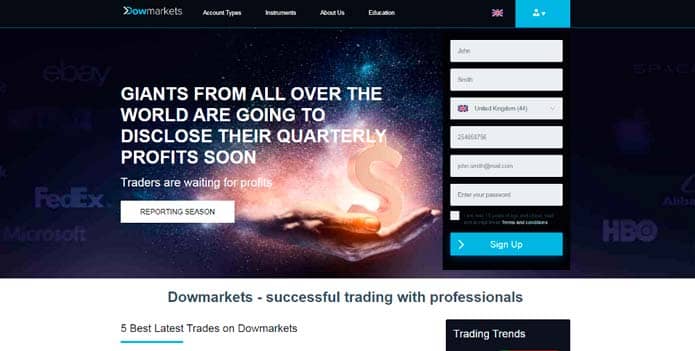 DowMarkets is a small exchange that, nevertheless, has earned quite a reputation in certain communities, most notably in Germany. They are mostly oriented to the European traders, although the majority of active traders are either German or Polish, so in case you haven't heard anything about DowMarkets, it's unsurprising.
But if you live and trade from Russia, Poland, Germany or GB, you might've heard a thing or two about them. If not – it's always good to be prepared.
Let's see what tools they have to offer and what problems they got.
Content table
First of all, let's see what manner of content they got here and then proceed to their reputation and reception.
In terms of the instrument variety, they have a standard list of products, including:
Shares – stock exchange
Forex – currency exchange
Commodities – mostly oil, gas and gold
Cryptocurrencies – Bitcoin, Ethereum and others
Bonds
Sadly, you don't really have a clear picture of the exact securities and assets they trade here. If you try to know more about these product types on their official website, you'll know very little about trading pairs, available issuers and so forth. It's not until you actually start trading that you get all the info you need.
And while we're on the subject, their educative section is also fairly poor. It only has a few articles from the local specialists, and that's largely it.
Features and tools
DowMarkets doesn't have much to offer, trading-wise. The sole unique – the xCritical trading platform – is reportedly fairly intuitive, compatible with other software and can boast a very effective interface. They aren't made by them, but it's the primary source of trading on DowMarkets.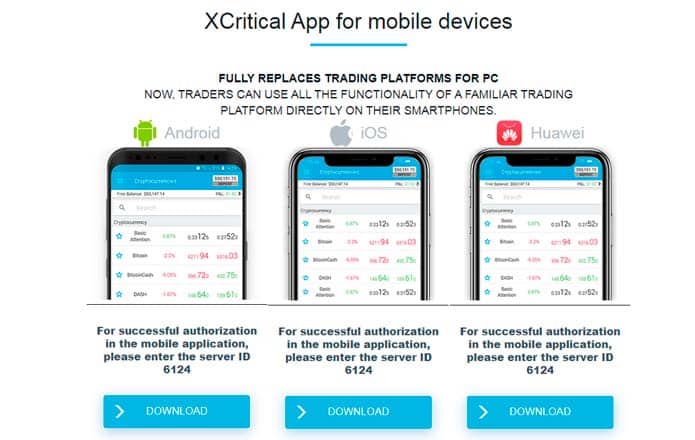 But really, you can do even better with MetaTrader 4 – the only ace xCritical got is the mobile version.
The problem is that you can't trade on MetaTrader 4 with this broker unless you enter a $50.000 trading plan with them.
Trading account types
Their account type system is pretty basic. There are 5 of them, and the logic is that you have to deposit more and more money in order to open more trading material and content.
The types are, as follows:
Start – from $250
Silver – from $3.000
Gold – from $10.000
Platinum – from $50.000
VIP – from $100.000
To summarize, they don't really give you any unique additional powers if you pay more, you're simply given less of the basic material if you don't pay up.
For instance, you aren't eligible to trade commodities or stock until you're at Silver or Platinum respectively. On Start, you can pretty much just trade crypto and usual currencies, and that's it.
You can't even trade them on MetaTrader 4 until Platinum. MT4 trading is listed as available 'individually' even on Silver, but it just means you'll have to ask for it, and even that is not guaranteed.
As for the unique privileges you get for paying extra, it just means you get some unique treatment from their specialists and higher withdrawing speed. Unofficially, you also get unlikely to be swindled by the staff, because you'll be too precious to lose in that case.
User reception
So, given the lack of content variety on DowMarkets, you might expect people to complain about it online. But they don't. The major point of talk on different trading forums and review aggregators is their user treatment. It includes the bizarre stalking practices as well as unjustified account bans.
Mind you, it doesn't happen all the time, just often enough to deem it systematic. Whether they do it intentionally or not, however, is unknown.
Stalking occurs whenever you try to close your account or otherwise inquire about something from the staff. Afterwards, they keep calling you and try to persuade you to just keep trading. Sometimes it's pretty harmless, but often their advances are just rude and incessant.
Then there are unjustified bans. It's usual for the platform of their caliber to block your account on no particular grounds (like excessive use of robots or trading in general) and then get away with your money. Here, the reasons for blocking may be just that unfounded, or even worse.
The result of such practices is always the loss of money for the unlucky user.
Given this state of things, it's prudent to use either the top account types or the lowest one, because you'll be either indispensable or beyond notice. But can you really call it a good trading experience if you have to constantly look around your back? Still, they don't block people all the time, you may just get lucky.
In conclusion
This broker is regarded as an average platform – it doesn't have much to offer, and what it has isn't too unique. The current state of market dictates brokers to have something special to offer their clients. DowMarkets doesn't really bother.
The xCritical platform they promote is a mess, and is in an even worse condition reputation-wise than DM. The online version might be fine, but the app kind of doesn't function properly.
Reportedly, the withdrawing mechanism here is obscure and doesn't work most of the time. You can trade with different brokers on it, using their pleasant interface and intuitive solutions, but what use are those if you can't even withdraw your money properly?
In short, DowMarkets doesn't have anything special to offer to off-set their lack of features and problematic trading experience. Why consider it when you have so many better exchanges that have all the content DM got and more?