Coinmama exchange review: Features and Possibilities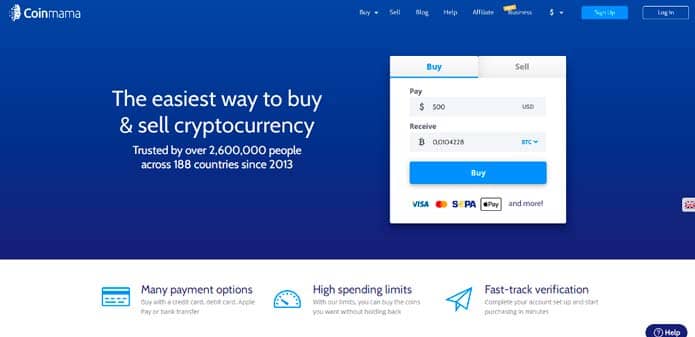 Coinmama is one of the older Bitcoin exchanges. It was founded in 2013 and was first dedicated only to BTC trading. They expanded over time, but they don't have nearly as many things to offer as some of the bigger and older exchanges. They don't have a lot of unique features either.
The users, however, seem to like Coinmama. They might simply implement the basic features well enough to avoid having to implement bizarre tools and quirks like many other exchanges do.
So, let's see exactly how good a trading experience they provide on Coinmama.
What is Coinmama?
Bitcoin surfaced in 2009 – its price mounted in several waves, the two major being in 2012 and 2017. Most crypto exchanges were launched around this time. Coinmama belongs to the older of the two groups. It means they had time to build themselves a nice reputation and a lot of users.
You could think they wouldn't want to mar it all by being inconsiderate or scamming, but it doesn't stop other old brokers from stealing user money. Coinmama, however, seems to cherish their customer base. Therefore, they are trying to be transparent and to provide a comfortable trading experience, as you'll see.
Trading on Coinmama
Some bigger exchanges (like Binance and Coinbase) have thousands of currencies to offer for trading. Coinmama doesn't go nearly as far – instead they focus on providing just 7 key cryptocurrencies. It's not unreasonable – if you're a cryptotrader, you'll mostly encounter these during your work hours.
The list includes:
Bitcoin – a central figure, naturally
Bitcoin Cash – a cheaper, but still a precious 'fork' (branch) of BTC
Ethereum – second most-precious currency with a more decentralized system
Ethereum Classic – a situation similar to Bitcoin Cash
Cardano – an even cheaper, but also a promising currency
Litecoin – a fast-growing fork of BTC
Tezos – a small-time currency
You can trade either of these for either. There are also several internationally valuable currencies in which you can trade. The list includes six of them: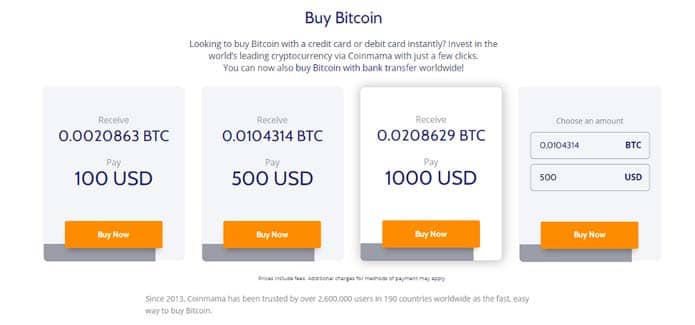 So, the Forex resources on this platform allow for a pretty decent variety. It means that, whatever your goals and current position, you can start trading here fairly comfortably. Of course, only if the provider allows you to have a good time here.
Money transfers
It's actually one of the major problems in the trading industry worldwide. The majority of brokers simply do not return your money when it's time to process your withdrawal. Coinmama, however, assumes that it's much more prudent and profitable to treat customers with respect, quite rightly so.
Coinmama is notorious for providing very high-speed transfers in and out of the exchange. Furthermore, whenever you want to deposit more money into your account, you can do it through many various methods, including: bank wire, card transfer, and transaction via a payment service (like SWIFT or SEPA).
Once you choose what manner of transaction you want and how much money you want to add to your account, you can simply approve the transaction and wait.
The maximum amount of time it may take is a day, but the payment can also stretch out if there are some issues on your end or due to security measures. These, however, aren't too intrusive, because obnoxious 'security' is a good pretext for denying money. And Coinmama seems to realize how distrustful people are to Draconian security.
Speaking of security, you'll still have to do some extra work to get your transfer through. For instance, they can ask you to enter a code message to make sure it's you.
Their security seems to work fine, even though they don't ask much and process your verification very fast (another notorious feature of theirs).
Client support
The lack of proper (or any) client support is the second common problem of most brokers and exchanges. It usually coincides with the lack of proper transfer system, but Coinmama rarely has any issues in this department.
They don't seem to lack the proper service, too. Moreover, they frequently go out of their way to make sure a customer in need has all their problems resolved. So, don't hesitate to call or otherwise contact them – they are seemingly happy to help.
Blog and Help
Given how Coinmama is bent on providing an extensive experience surrounding the top currencies, you might expect them to also give the new people some idea of how to trade effectively. And they do – in two ways.
Coinmama has a fairly thorough blog to offer. The articles here are most educative or market updates that let you know what's going on with the features currencies – mostly with Bitcoin or Ethereum.
The articles are added regularly, but the intervals in-between are not regular. Sometimes you have to wait a lot, and sometimes barely a week to read new material.
So, this is a section where you learn the basics about the trading and this broker. The section is divided into an extensive FAQ part and a list of articles you might be interested in if you aren't exactly a veteran trader.
In conclusion
By all accounts, Coinmama is a decent exchange. They might add a bit more content, but it's a minor issue. It might be far worse – a lot of their counterparts are simple scams, and Coinmama seems to be considerate and thoughtful enough not to become one.
In the end, they have everything you'll need. You won't be able to do everything and draw convoluted trading strategies, but it's nice to have a safe haven where you can simply trade a bit.