Coinberry exchange review: Advantages and Disadvantages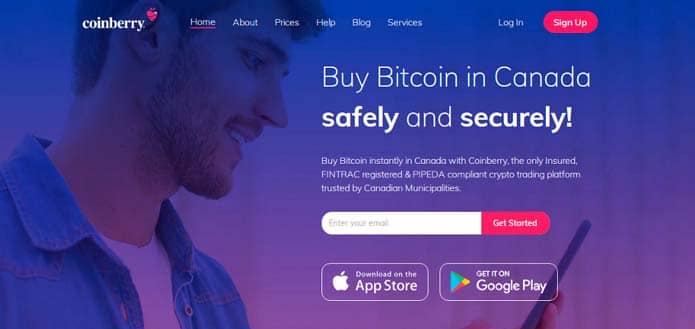 For Canadian person, trading in cryptocurrency isn't much different from the average American or British trading experience. However, there are certain exchanges that focus on providing as much comfort as possible specifically to Canadians. This includes many services and offers that genuinely sound very nice.
Coinberry is one of the more prominent exchanges of this sort. Nevertheless, this benevolence doesn't excuse or nullify their mistakes and problems. Let's see exactly how comfortable or uncomfortable Coinberry may be in general.
What is Coinberry?
Coinberry is one of the many relatively fresh exchanges that appeared in 2017 when Bitcoin price started mounting again. As such, they have several crypto options to trade:
Bitcoin – the largest cryptocoin ever
Ethereum – the second largest coin
Bitcoin Cash – a 'fork' of Bitcoin with smaller worth
Ripple
Litecoin
Stellar
Dogecoin
Chainlink
You might say it's not much, but, at the same time, these are amongst the top cryptocurrencies worldwide, the rest are largely very cheap. The variety is not really the focus of Coinberry. They are more about accommodating Canadian traders.
On paper, they do it very well.
Trading in Canadian dollars
CAD is accepted on most worthwhile exchanges, but on Coinberry the currency is given the top of the pedestal. You can trade in most global currencies, including USD, if you like. However, it's much more comfortable and profitable to trade in CAD, for several reasons:
There are no fees on depositing and withdrawing your money if they are held in CAD, which means you'll be able to buy and sell more.
You're able to use your e-Transfer or any Canadian bank transfer directly. Given that you most likely hold your money in CAD anyway, it'll be a smooth process to transfer your money from and to Coinberry.
You can use Coinberry Pay, which is a small service that basically sends all your received crypto to your bank account in the shape of Canadian dollars.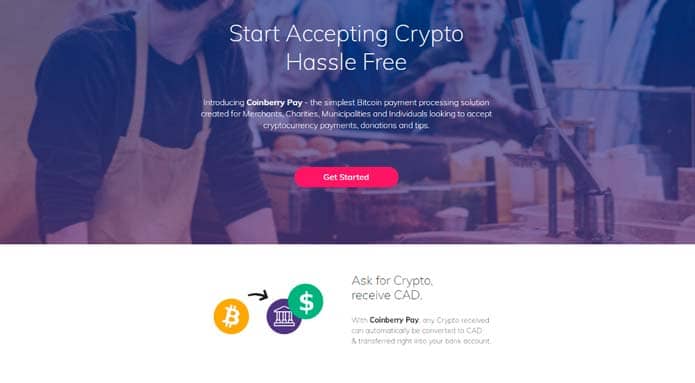 The latter is an instrument to help increase the speed of your transactions. So, if you receive a payment or a donation in crypto, it's converted into CAD right away and put into your bank account. Sounds great, but the effectiveness of this service hasn't been proven or disproven, it's hard to find feedback for it.
Canada-oriented transfers
As mentioned in the paragraph above, you can fund your Coinberry account using an e-Transfer, a bank wire or just a credit card transfer.
E-Transfer is one of the major methods of money transferring in Canada. While it can't be used to fund most other prominent exchanges online, it can be used for Coinberry. It's an outstanding advantage, because it means most Canadian traders can (theoretically) trade with much more comfort now.
The bank wire method is also oriented at Canadians, because the options include a lot of top banks in Canada. Given that these same banks are accommodated also by e-Transfer, it's just a question of what service you prefer using.
Legitimacy
While the legitimacy of this company is a subject of many disputes, as you'll see later, Coinberry still seems transparent (at least, at the first glance).
The client support they provide is the subject for later, but there are several points that hint at this company being more than just a sham and a cover for dirty dealings. Still, it doesn't at all nullify the complaints of clients.
Firstly, the company claims to be registered by FINTRAC and, by extension, the government. It means a great deal, because it means the government thinks that Coinberry sticks to the law. It means that most problems this exchange has are related to the technical mistakes and mismanagement.
But again, it may be that they lie about their registration with FINTRAC. They are a small exchange – it's easy for them to elude the government's notice.
Secondly, there is an address where you might come knocking if you live in Toronto – 320 Davenport Rd, Toronto, ON M5R 1K6, Canada. So, if they can't withdraw your money properly, you can come and see them in person. Then again, it may not be their true address.
If you live nearby, you might come and see them before starting to trade with them. Even if they are not even there – it'll give you a clear idea of the kind of company Coinberry is.
Issues
There are some severe issues, as noted many times prior.
First and foremost, they don't seem to provide a very good customer service. There are tons of reviews that complain about the lack of responsiveness, helpfulness and general competency. According to the complaints, if they do answer eventually, the reply may very well be a hollow one.
It's a smaller issue, but no less relevant. The provider doesn't seem to be able (or maybe willing) to process your withdrawing requests properly. They are either monstrously delayed or declined. When they are declined, you won't be able to know why too soon, because they don't like answering client complaints very much.
In conclusion
For a Canadian person, Coinberry is a fairly comfortable experience on paper. However, if you actually start trading here, you may encounter several crippling obstacles some time after starting to work with them.
Most obstacles are likely a product of incompetence and may result in delays and general discomfort. But it may be that they are a genuine scam. From their behavior on review aggregators, it's not very probable, though.
In short, their problems decrease a sound level of comfort that would otherwise be provided here.