BlackBull Markets broker: user review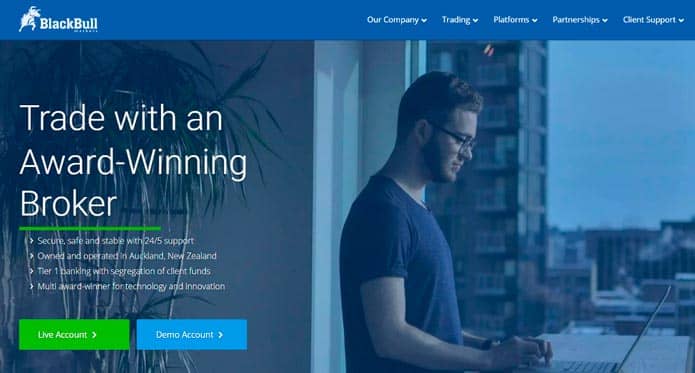 BlackBull Markets is a relatively new broker that surfaced back in 2014 in New Zealand. Over the recent years, they've made themselves a name and accumulated a lot of feedback in the short period of time. However, the general opinions of the public (as well as complaints) differ from one review platform to another.
This broker has some problems, but getting to understand them is tricky, and you'll have to analyze a lot of reviews as well as go through their website to understand what's wrong. If you don't want to do this, here's a condensed version.
What does BlackBull Markets have to offer?
The niche of online brokers is oversaturated, so it's more about what any specific broker has to offer in relation to other brokers like them rather than their actual products.
BBM has a lot to offer, including:
Several versions of MT4 platform for different devices, as well as MT5.
60+ different currency pairs, which is a decent number.
Commodities and special options for metals and energy products.
Guides, videos and a dictionary for trading.
Extensive client support.
Now, it's more than most usual brokers of such caliber have to offer. However, this list only shows what they can offer you. It doesn't show exactly how well these things work. For that, you'll have to either listen to other people's feedback or try it yourself (and it can be a pain in the neck).
Generally, BlackBull seems to have a large variety of products and opportunities for gain. However, it is a company from New Zealand, and it is a problem which caught an eye of many unlucky users – more on that in the 'disadvantages' chapter.
User ratings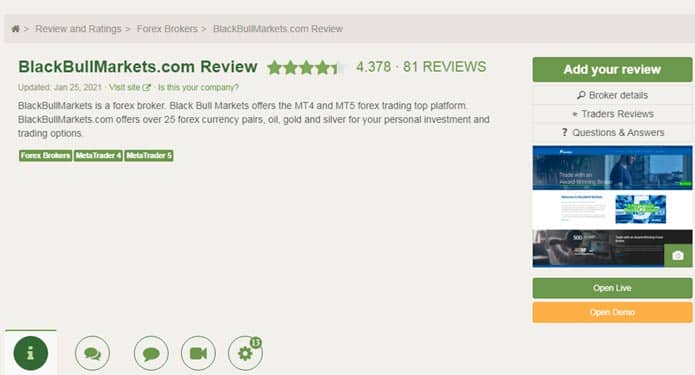 As mentioned, BBM has different average ratings on different user aggregators (from the actual everyday users). If you put them together, you'll get about 4/5, which is a fairly good result.
The independent 'professional' reviewers give BBM roughly the same amount of points. Combine it with the fact that they actually discuss the problems with their clients, and you'll have an honest broker at the very least, although BBM is still flawed.
Disadvantages
From the technical side, BBM isn't too bad – there are almost no complaints about the process of trading itself. There are complaints about bad treatment from the broker, and it generally stems from two factors.
New Zealand is very keen on keeping the entire trading industry in check. When you register on any law-abiding Kiwi brokerage provider, you'll have to submit a lot of documentation so that the broker could see that you are a real living person with the clean record.
Brokers usually demand some sort of documentation from you, but New Zealanders go above and beyond – they need you to submit all sorts of records, from ID to police records. And even then, you may not be allowed to trade on BBM if they found something suspicious about you.
At the very least, they evidently don't ban you when you're already inside. They check everything thoroughly before letting you in.
From all the complaints, the company seems to impose deposit fees, as well as withdrawing feelings. The withdrawing is understandable – everyone does that, that's how they earn their commissions.
Most of the time you'll be charged $20 for your withdrawn funds, because that's the commission for using the international bank transfer, and which includes everything except for NZ banks.
Deposit fees are more complicated. They don't tell anything about them on their website, nor would they – it's not an accepted practice. However, many users openly complain about having to pay for their deposits.
Advantages
BBM also has good sides. It includes all the things considered comfortable for users as well those made with care by the owners. The list doesn't include the features regarded as normal or standard.
The company behind BBM may have its flaws. However, the fact that they demand you to submit your documents and that they check them (which isn't their fault) is an indicator of transparency and law-abiding.
Furthermore, they notoriously discuss the problems and complaints of their users on big review aggregators, like FPA. It speaks clearly that they at least consider themselves a legitimate broker, otherwise they wouldn't even care.
Finally, BBM are more likely to correct their mistakes and help you out than many other brokers that only have client support for shows.
BBM has a lot to offer, and not only in terms of trading capabilities. It's true – they have a lot of currency and commodity options, as well as a good measure of different trading platform versions.
But in addition to that, they have a number of various learning materials that can help you get better in trading. Also, there are many account types for all trading styles and situations, including Demo, Islamic, Institutional (for organizations and big-time traders) and more.
Client support
Although there is a lot of information about pros and con, it's hard to understand exactly how good the client support is on BBM. Client service is essential, because there are always small technical mistakes, confused clients and general questions.
There aren't many good reviews about the support here, nor are there a lot of complaints about it. It seems pretty average.
BBM client support includes dedicated agents, 24/5 live chat with specialists and an assortment of educational materials.
In conclusion
BlackBull Markets is a fairly good broker with several problems. During the current pandemic, it's hard to go about collecting your documentation just to open an account on some Kiwi brokerage provider.
But if you break through, you may even enjoy it. That's the final statement.