AAFX Trading Forex broker: reviews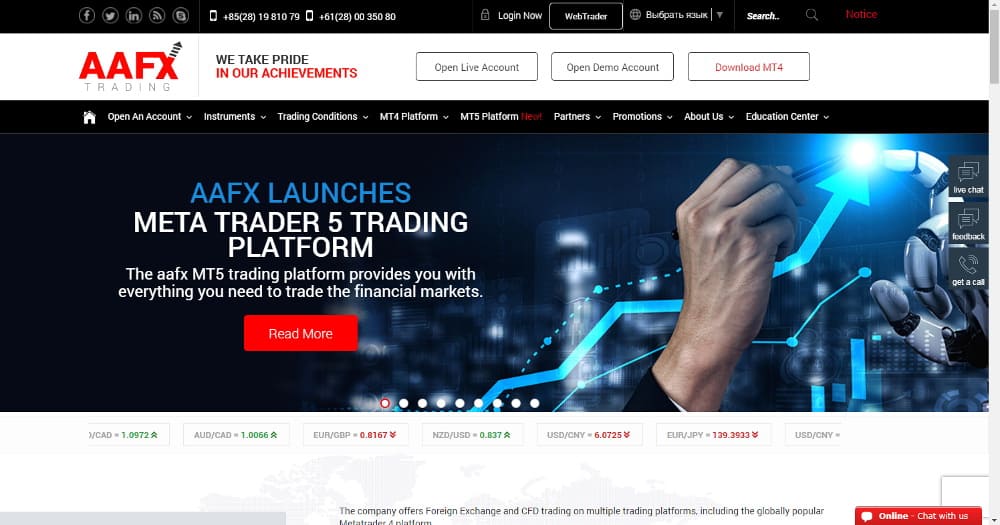 AAFXTrading.com is one of the fairly less known brokers. It doesn't necessarily say that it's bad or indecent (the reviews will tell), but it's definitely not among the most user-favored platforms out there. It can imply that AAFX has flaws, and that's exactly why it doesn't have too much traffic (compared to the big names), but it's speculative.
At the first glance, it has everything that the modern trader may need, including MT4 and MT5 trading software, educational chapter, most popular sorts of tradable goods and more. However, even by looking at the broker website you can see flaws here and there, and only a user review analysis will tell exactly what's wrong with AAFX.
But before plunging into the review analysis, let's look closer at AAFX as a platform.
What is AAFX?
It's really hard to grasp where and when the company behind AAFX originated. It is known that it has been in business since at least 2013, and it's most likely an Asian firm – having won a prize for Asian companies that year.
It can't tell you much about the way AAFX operates, but the fact that the company doesn't tell people anything about itself is worrisome. Not a crime, just worrisome. Plus, just looking at the main page, you can see a few minor flaws in structure. For instance:
Grammatical flaws and defects right on the front page – like missing space after commas or 'a' article to multiple things

Broken off text in many prominent text blocks across the website

Barely meaningful information where actually helpful descriptions should be
What it says about the platform right now? It may be nothing, if the trading process is good and fair, but right now it says that the company hasn't paid much attention to website-building and that they either: 
didn't double-check how it looks
Or
don't speak English on a good-enough level
All of this can be a source of multiple issues with the platform, both in terms of trading and overall user experience. But if they're willing to compensate these flaws with good trading mechanisms, it's fine.
And what can AAFX compensate these raw issues with? For instance, they offer its users the usual and leveraged trading for all accepted resources (stock, commodities, crypto, etc.), as well as means to trade (MT4 and MT5). There's also talk about no-commission trading, high performance, fast withdrawals, tight spreads, 1:2000 leverage, as well as multi-language support, but it remains to be seen how well they implemented it all.
Indeed, you can only see from user reviews how well they implemented all these potential benefits into their platform. Let's see.
The rating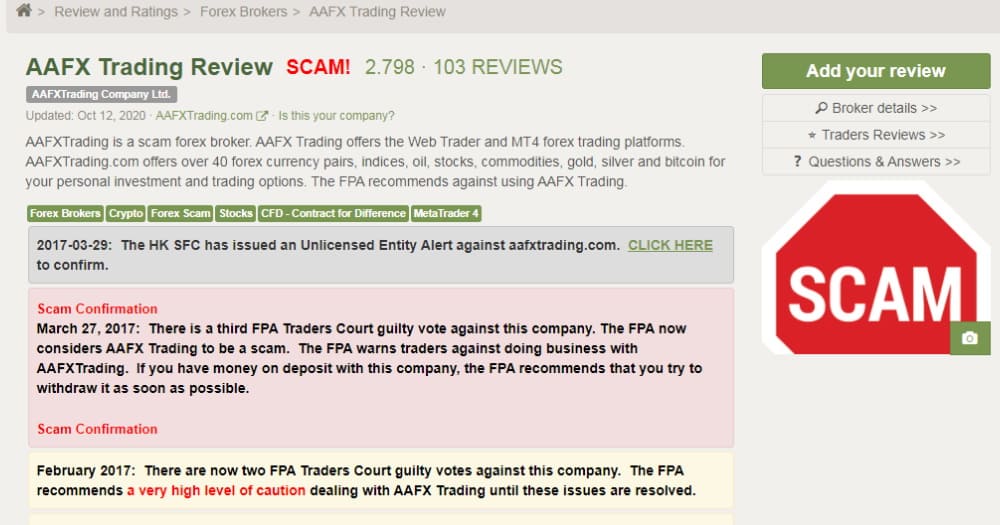 There are two polar points of views of AAFX from two main sources of user reviews in Forex industry. Trustpilot users overall thing it's a decent platform with 4.1/5 rating and a fair share of good feedback. ForexPeaceArmy, however, doesn't think so – the aggregator itself labeled it scam and the reviews are at 2.8/5 as of October 2020.
But what could upset the reviews of FPA so much?
The advantages
There's a lot to commend AAFX for, at least in the opinion of users.
Leveraged trading is kind of trading that lets you open position with the money borrowed from a broker. AAFX offers leverage from 1:1 to 1:2000, the latter means you can borrow more and invest less from your funds. And it's a topic of high praise from the users. If you know the position is going to pay off, then your leverage will pay off hugely.
However, there are risks also, and AAFX doesn't do a very good job explaining them.
It's pretty much a norm for most such brokers, but this caught an eye of a lot of reviewers. You can choose what you want to do. There is a wide variety of account types: leveraged (margin), usual and demo. Additionally, you have two well-known trading platforms – MT4 and MT5, the former even having some modifications to better suit the platform. Finally, you have a lot of resources to trade in.
Another topic of commendation is the large library of teaching material that the platform has to offer. It's not the biggest pro, but it's definitely a good touch. You can watch quite a few videos about trading, as well as read an extensive supply of reading material in the shape of eBooks. It's overall a good point for beginning traders.
The disadvantages
There are fewer (just one) cons than pros, according to the feedback. However, the existing one is very ugly.
That's how legal FPA labeled the platform. They don't do that to a lot of other platforms, so you know it's something when you see. The point is – AAFX regularly steals money and margin from people when they accumulate a lot of it on their balance.
The customer support is usually favorable, but when you ask them why your large profit or supply was wiped out, they may become very oblivious all of the sudden. It's not uncommon for brokers to target larger sums of money, thinking no one will notice. FPA noticed, and they are in trouble now. It is official – if you strike a large sum, it won't be safe.
Conclusion
What's the conclusion? It is scam – a large review aggregator investigated the issue and confirmed it.
However, if you're trading on AAFX right now and if you like doing it – you can technically do that if you don't involve large sums. There are advantages in working with them, and if you feel like you've never been more comfortable – good for you.
However, it's your head, and you should really be careful with them. Thank you.